Microsoft Power Apps: The Easy Path to Power Up a Business
Microsoft Power Apps is an app-building platform that aids developers in building customised apps with low code. Before getting more into it, let's discuss why it is a must for growing businesses.
You will agree with me when I say, "Business operations are becoming more and more complex to meet customer and market demands". Business owners and decision-makers are investing a lot of resources to simplify operations in the hope of enhanced efficiency and productivity.
What if we could build custom applications to simplify a section of a complex business operation?
If so, we can easily double or triple productivity and accelerate the business process towards enhanced results.
Microsoft Power Apps is one such solution that empowers technical or non-technical users to build custom low-code applications with minimum effort.

Source
It helps businesses manage the changing complexity of business processes to scale and simplify their operations.
Also, not all processes have a solution available to streamline them, and this is due to the uniqueness of a business. In such a scenario, businesses can build their own unique app to process data and share it with others.
Before understanding more about Power Apps, let's understand what Power Platform is and why it is used in SMBs.
What is a Power Platform?
Microsoft Power Platform is a suite of low-code applications that aid businesses in building personalised solutions. Based on Microsoft cloud services, the applications of Power Platform easily integrate with other Microsoft business solutions to enhance capabilities while simplifying a particular process. The Power Platform consists of five applications, which are:
• Power BI
An end-to-end data analysis and visualisation tool to get powerful insights and utilise them in actionable decisions.
• Power Apps
A low-code solution that empowers users to build customised apps for specific issues, resulting in lowered development costs and ease of accessibility.
• Power Pages
It is a simple yet powerful platform to rapidly build websites without any knowledge of coding. You can create landing pages or single-page websites in a matter of minutes.
• Power Automate
It allows you to automate most of the manual and recurring tasks while boosting the efficiency and productivity of your business.
• Power Virtual Agents
Build conversational bots that leverage the power of AI and BI to maximise the customer experience.
What is Power Apps?
If I have to explain what Power Apps is in one line, it will be like, "Optimise all your business operations, automate data flow, modernise all processes, and resolve complex problems with simple customised solutions."
Built on the cloud, Microsoft Power Apps enables developers to rapidly build customised applications while lowering the overall development cost. It supercharges the business to resolve complex issues or challenges with low-code applications.
Being a part of the Microsoft Power Platform, you can easily create a unique application and connect it with other native Microsoft applications to build a sustainable form of data flow from one application to another.
Users with zero coding experience can easily build the desired application using pre-built templates, drag-and-drop functionality, and AI-generated data. These applications are flexible and responsive enough to work on any device or browser.
When it comes to integrations, users can easily integrate the application with Microsoft Office and the Microsoft Dynamics 365 suite of applications with just a click.
Type of Power Apps: To Build Diverse Applications
In general, PowerApps are available in three different kinds:
• Model-Driven Apps
In this app, you need to justify the input data and specify the expected result. Based on the data input, you will get the result. Basically, such apps are built based on complex business logic.
Benefits of Model-Driven Apps
• Can access Microsoft Dataverse
• Ease of use with the Microsoft Dynamics 365 interface
• Avail of the no-code design platform
• Canvas Apps
This is like building an app from scratch or from a blank canvas. You need to start with collected data, a workflow strategy, accurate data sources, and proper planning. Also, you can use the suggestions offered by AI.
Benefits of Canvas Apps:
• Avail of the drag-and-drop feature
• Utilise pre-made templates
• Access automation to feed data
• Portals
Here, portal refers to a website that enables users to communicate and share information securely using Microsoft Dataverse.
Benefits of Portals:
• Easy to communicate with other
• Keeps information secure
• Users can access Microsoft Dataverse
Top Features of Microsoft Power Apps: Reasons of Being a Top Choice of Growing SMBs
Microsoft Power Apps offers various features that make it powerful and unique among the similar apps available on the market. It allows users to build an app or customise an existing one to enhance its capabilities. Some of the major Microsoft Power Apps features are:
• Fast and Easy Deployment
This platform allows users to rapidly build apps using drag-and-drop features and easily deploy them into new or existing business operations. Also, after the deployment, you can still make changes to an app to continuously improve its functioning.
• Seamless Integrations
You can easily connect an app with Microsoft native solutions, like Microsoft Dynamics 365, using APIs or custom connectors to enhance the capabilities of an existing system.
• Pre-built Templates
Power Apps offers various pre-built templates to offer ease of access to all users while building an application. These templates aid non-technical users to build an app in no time with AI-assisted natural language. You can even customise a template based on your specific requirements.
• Interactive User Interface
The user interface is so simple and interactive that a novice user can easily access all the tools and functionality required to build an application. Beginner users can build apps to resolve complex processes using a strong app-building strategy.
• Global Connectivity
Utilising cloud-based server deployment, you can easily connect your application with global users to make it accessible from any corner of the world. Also, you can easily connect the system with different cloud services, including Dropbox, and Google Drive.
• Solves Complex Business Issues
With the growth of a business, the complexity of business operations also increases. In such a scenario, Power Apps Studio resolves complex business processes with simple yet effective solutions.
• Connects with various Data Sources
You can easily connect various data sources and connectors with Power Apps to feed a proper stream of data. On the basis of input information, the custom-built application provides an output to boost an existing process.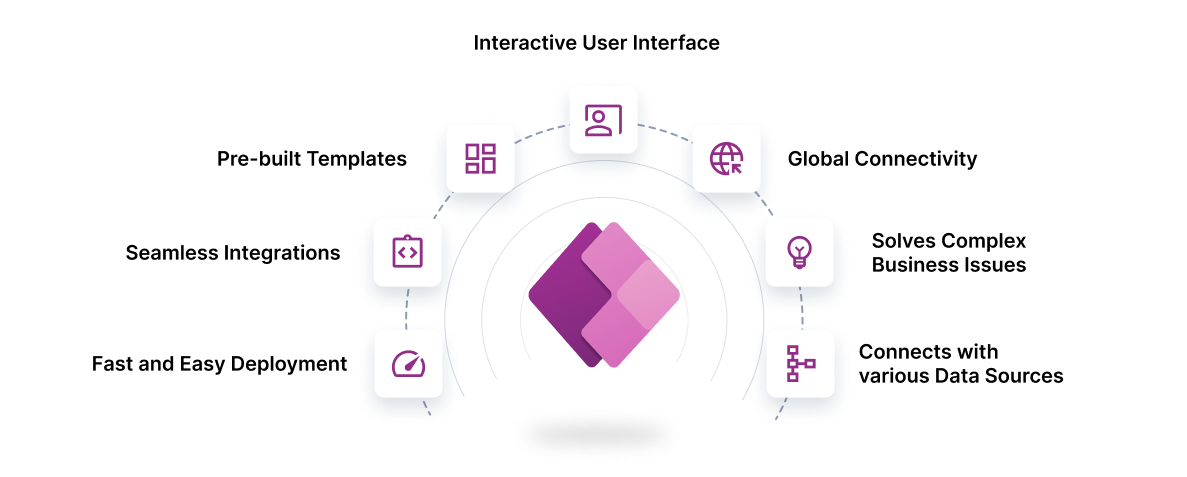 Top Benefits of Power Apps
Some of the most useful Power Apps benefits are:
• Get Responsive Access
All the apps built using Power Apps platform are responsive in nature. It means, you can access the Power Apps on your mobile device or tablet using a compatible web browser. In the case of cloud deployment, you can access the app anytime and from anywhere.
• Build Apps with Low-Code
The best part of using Power Apps is building customised applications with zero knowledge of coding. It comes with a low-code platform that empowers non-technical users to build the desired app with ease. In the case of a complex approach, you can get help from your Microsoft Power Apps partner to understand the complexity of building the desired application.
• Cost-effectiveness
Microsoft offers straightforward and cost-effective Power Apps pricing based on per-user and per-app plans. When we compare it with other similar platforms available on the market, it offers flexibility, cost-effectiveness, and maximum usability. Also, you can check out the simplified Power Apps cost on our website.
• Securitys
With the reliability of Microsoft Azure and Microsoft Dataverse, Power Apps offers a highly secured data flow across the entire workflow. Also, you can build certain security roles for users to restrict their access to data, ensuring that employees see the data you want them to see.
• Embedded with AI
Microsoft is embedding AI (artificial intelligence), BI (business intelligence), IoT (internet of things), and ML (machine learning) in its entire range of solutions to make them more powerful while dealing with modern and complex problems.
See Also - Business Benefits Of Microsoft Power Apps: You Shouldn't Miss
Why should you use Power Apps to Power Up your Business Operation?
Implementing different solutions to resolve different issues is an unprofitable, complex, and cumbersome process. And the irony is that people are still following this trend.
Now, we have advanced solutions, like Power Apps, which can help us build low-code applications for a specific purpose without any hassle and in the most cost-effective manner.
Microsoft Power Apps implementation empowers a business to focus more on growth and scaling rather than investing money in building and maintaining different solutions.
If you want to know more about Power Apps and how it can supercharge your unique business operations, feel free to contact a Power Apps partner, like Dynamics Square.
We are a certified Microsoft Solutions Partners, offering our reliable and effective services to small, medium, and large businesses of the UK. You can send us an email at +44-207-193-2502 or call us directly at info@dynamicssquare.co.uk to get the answers you need quickly.
See Also related article: