Power BI Vs Tableau [A Practical Comparison] 2023
Data visualisation is the future of all industries, whether small or big. With more precise data visualisations, more will be growth. Power BI vs Tableau is the market's most known business intelligence tool, and the fight for the best data analysis and visualisation application is still in trend. If you are also one of the users who is confused between these two, this blog will answer all your queries and help you select the best option for your business.
Advanced technologies, including artificial intelligence and business intelligence, are working for organisations to help them understand and extract valuable data. This is the future of businesses to sustain the changes in business advancement and grow even in sheer competition.
Industries are trying hard to visualise the pile of data they acquire and make data-driven decisions for rapid growth and scalability. Data contains useful information that is the key to more profits with the same resources and efforts.
Although numerous business intelligence tools are available in the market that brings different features and functionalities for organisations, but selecting the right BI tool is a task that matters a lot.
True Comparison between Power BI VS Tableau
Microsoft Power BI vs Tableau is the hot topic that made people curious about which superior BI tool performs best when data visualisation is concerned. Organisations are comparing the features and capabilities to understand the correct BI application that suits their business and its specific requirements. The right choice would boost the data extraction and utilisation process and enable a company to earn more profits.
Key Differences Between Tableau vs Power BI
Power BI allows users to customize the user interface, including creating and deleting columns, applying filters, modifying data, and changing formats. In contrast, Tableau makes users work on preprocessed data available as a standard for all.
The vital objective of Power BI is to provide a smooth user experience with ease of data accessibility, whereas Tableau's emphasis is on coding to provide a smoother user experience. This makes the users dependent on third-party vendors to customize the functions.
Power BI depends on the DAX language for calculating data in columns, whereas Tableau uses the MDX language to calculate the same data.
Power BI uses Power Pivot to perform efficient and productive data analysis, whereas Tableau doesn't have any such feature. 
| | |
| --- | --- |
| Power BI  | Tableau  |
| Uses DAX for calculations  | Uses MDX for measurement and calculations  |
| Customizable user interface  | Standard user interface  |
| Smooth user experience without coding  | Depends on coding to provide smooth experience  |
| Uses Power Pivot for efficient performance  | Standard performance  |
| Ideal solution for beginner users  | Ideal for experts and experienced users.   |
What is Power BI? 
Microsoft Power BI is a powerful business intelligence application made for small and mid-sized organisations to analyse and visualise large amounts of data on a single dashboard. It displays all the data on a single screen, making it more straightforward and seamless.
Power BI fetches the data from the data sets made available by users and creates reports that contain easily accessible visualisations.
It can consume data from different sources, create reports, and show the visualised data in the dashboard. The whole process of data visualisation consists of four steps:
Integration of Data
Transformation of Data
Reports and Publishing
Creating and Dashboard
Microsoft Power BI eliminates data management's cost, complexity, and security risks by using secured cloud servers. It has the incredible capabilities to present, distribute, and integrate the data to take the most actionable and technology-driven decisions. The right Power BI implementation partner can enable businesses to utilise Power BI's performance efficiently.
Advantages of Power BI:
Power BI provides immense features and capabilities to an organisation, making them better able to analyse customer and competitor behaviour. It has various advantages, like:
Power BI offers low-cost data analysis and visualisation applications, which users can avail of in the Power BI Desktop version. It is a free version that offers essential features and capabilities to users but with restrictions.
Power BI provides a simple user interface with easy-to-understand visualisations. A regular user of Microsoft Excel can quickly go through the Power BI functions and make it work out.
With access to cloud computing, users can easily access Power BI from anywhere and anytime.
Power BI provides the functions, including tiles, filters, and highlights.
It supports natural language that makes the application take command verbally for ease of accehttps://en.wikipedia.org/wiki/Tableau_Softwaress.
Supports integration with Python and R Coding to show better visualisations.

What is Tableau?

Tableau is another popular business intelligence tool for showing beautiful visualizations to users. It fetches the raw data from limited sources and offers visualization for data-driven decisions.
It shows the data using charts, graphs, maps, stories, reports, dashboards, and worksheets to help users utilize the data efficiently. With the ease of showing complex data in visualizations, a user can avail of all the features and gather insights without technical knowledge to make more profits using the same resources.
Advantages of Tableau
Tableau has the upper hand in providing online resources to learn and understand it better using the Tableau community. 
It is capable of processing large sums of data quickly. 
Tableau comes with a story-telling ability that helps in data interpretation.
When figuring out the different data visualisations, it merges the graphs and charts to show centralised data.
The mobile-friendly and responsive user interface makes it easier for users to access. 
Tableau uses other scripting languages to avoid complex calculations and performance issues.
Power BI VS Tableau Comparison
Each of these BI applications has its pros and cons. In this section, we will compare the features and capabilities of these tools in various aspects.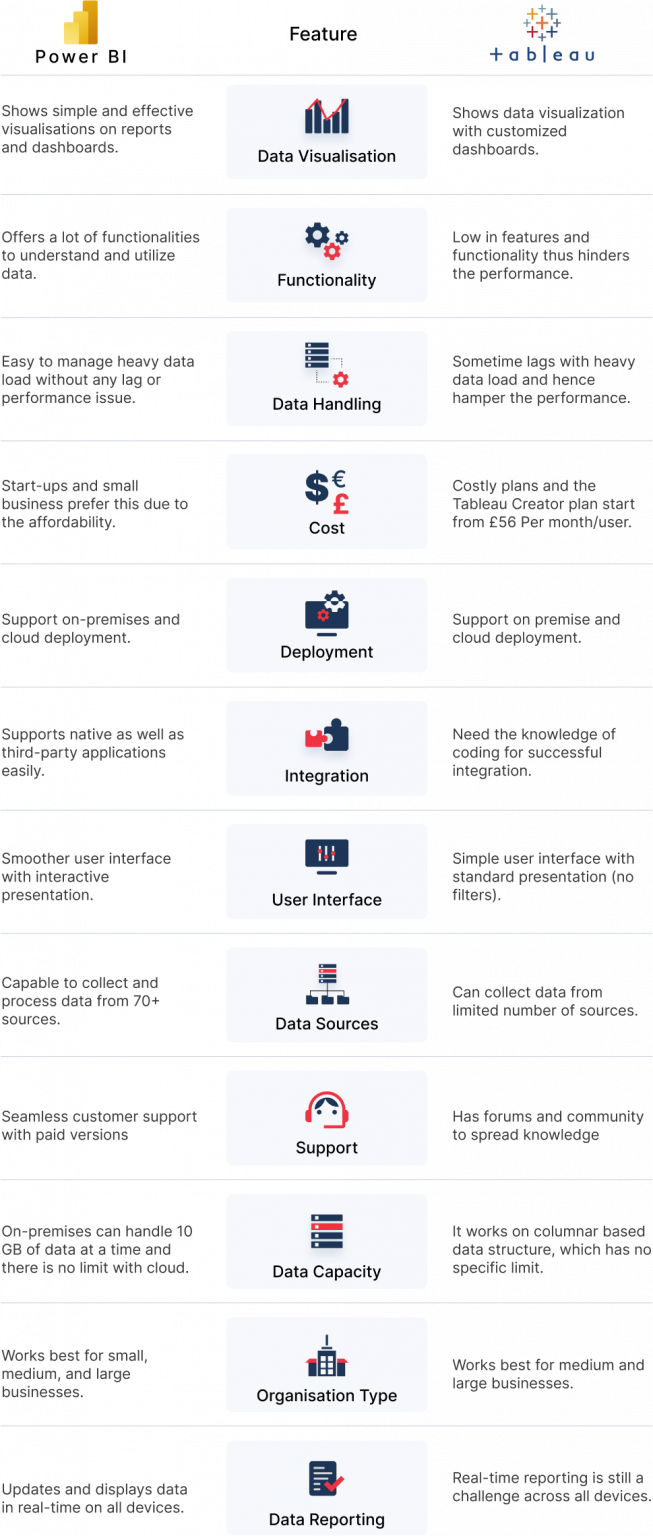 Power BI vs Tableau: which is better?
Both BI tools offer great functionality, but it depends on the user's requirements to choose the most suitable one. There can be various factors in selecting the correct application for data analysis and visualisations, including business requirements, budget, company size, customisations and integrations, and volume of data.
Microsoft Power BI is the best option if you are a new user of BI and want smoother seamless data visualisations. And, if you have experience using BI tools and have coding knowledge, you can go with Tableau.
When simplicity is concerned, Power BI wins the comparison, but in the case of extensive customisations using coding, you can start with Tableau.