Connected Field Service Deployment with Azure IOT
What if we can somehow detect an error before it even occurs? Or, what if we could find and resolve a machine error in a matter of minutes while utilising the minimum resources?
You would agree with me when I say a business consists of numerous machines for different operations. Tracking each machine for regular maintenance and detecting errors when they occur is a hectic, manual, and time-consuming task that results in decreased efficiency and employee productivity.
If this would happen, you would save a lot of money, lower the service costs, and enhance your machine's uptime. Connected Field Service is a Microsoft Dynamics 365 Field Service add-on that can detect errors before they occur and resolve them remotely by leveraging the power of IoT. Before learning its technicalities, let's understand a bit about connected field service.

What is Connected Field Service?
Connected Field Service is a solution that collects data from IoT devices installed on machines and feeds the data to Microsoft Dynamics 365 Field Service in real-time. The IoT devices collect data using different sensors connected via WiFi to a centralised data platform.
Once Microsoft Dynamics 365 has the unusual data or data above the threshold limits, it raises tickets, cases, queries, and work orders to notify the user about the error. There are numerous examples of such machines failing, such as a refrigerator that stops freezing or a machine that loses efficiency.
Whenever, Connected Field Service encounters such issues, the Dynamics 365 ERP application notifies the accountable person in real-time, resulting in an accelerated error resolution process.
It enables the organisations to minimise the efforts they put in to search for and rectify a problem after establishing a connection between Microsoft Dynamics 365 and IoT devices.
How the connection of Connected Field Service and IoT Works?
The integration is simple, and you can understand it by reading the below factors.
IoT devices are built with various sensors that measure various readings and send the data to Connected Field Service.
You have to set up the rules, also known as alerts, to specify a limit.
For example, you can programme a rotational machine to turn 180°. If it moves less or more than the rule, it will send an alert to the Microsoft Field Service through Connected Field Service, specifying it as an error.
Another example of setting an alert for a fire furnace at a fixed temperature. With the fluctuations in the reading (temperature), it will send an alert (refer to the below image).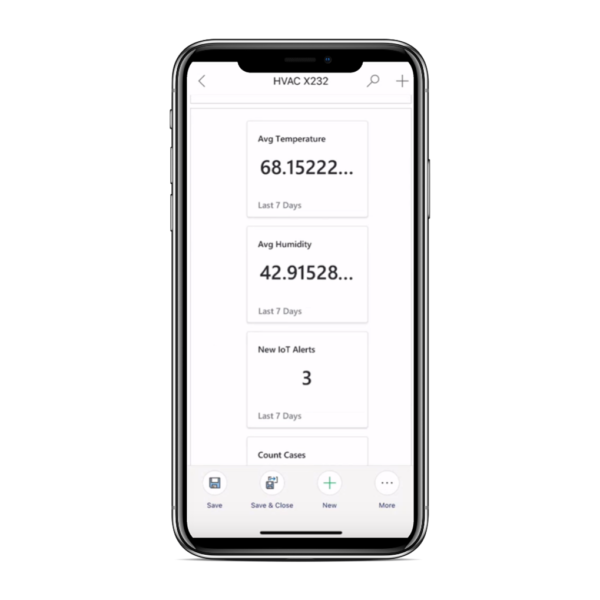 source – Microsoft.com

You can easily get the alerts using notifications, case orders, emails, and work orders in Microsoft Dynamics 365 Field Service.
source – microsoft

Later, you can assign a technician based on their skills to resolve the issue.
Technicians or engineers will be notified about the job on the Dynamics 365 app (refer to the below image) with detailed information about what has been done and what has to be done to eliminate the problem. Also, they can even update the data whenever required.
source – microsoft

Top Benefits of Connected Field Services
Connected Field Services offers numerous benefits to businesses when it comes to real-time device monitoring. Some of the benefits are given below:
1. Scheduled Maintenance
The best part about this add-on is that it notifies the user of planned maintenance on time. Also, as per the performance and fetched data of a particular device. It even predicts the need for service before a machine starts to show errors, like repairs, replacement, cleaning, and more.
These preventive maintenance programmes allow the company to focus on development rather than manual operations.
2. Remote Troubleshooting
Microsoft is working day and night to develop the latest technology while integrating it with existing business solutions. With the integration of IoT and connected field service, you can easily detect an error before it actually happens, resulting in a continuous flow of operations.
If there is a need for troubleshooting, field service executives can resolve the issue remotely. There are certain chances that a complex issue will arise that needs extra help to be resolved. In such a case, an executive can use Microsoft HoloLens to get live help from other experts.
3. Accelerate Issue Resolution
Whenever a machine encounters an error, it generates a query or a work order for the concerned people to know about it, resulting in an accelerated issue resolution process.
Later, Microsoft Dynamics 365 Field Service assigns the right person with the right skillset to work on it, while tracking and reporting on each technician's activity.
4. Centralized Data
Connected Field Service is a cloud-based application that works on Azure IoT and offers a centralised platform for data sharing. The executive can check the data in real-time using the Field Service Dashboard to better understand the issue.
It lets the users access the data and collaborate for a better and more efficient resolution of the error.
5. Enhance Cycle Time
With the ease of issue detection and resolution, the cycle time of manufacturing industries increases up to a certain limit. Even so, it reduces the downtime of machines, resulting in increased overall plant efficiency and a better ROI.
You can even track these details using Microsoft Dynamics 365, available with Microsoft Azure IoT Central.
What is the Process of Connected Field Service Deployment?
Connected Field Service Deployment can transform the way you resolve customer issues and get machines back on track. Dynamics Square has your back if you want this transformation that will benefit both you and your customers.
Dynamics Square, We are one of the most reliable, popular, and cost-effective Dynamics 365 partners, helping businesses implement Microsoft ERP and CRM solutions. Being a Microsoft certified partner, we have been providing our services to businesses while helping them maximise their profitability and eliminate complexities from the entire system.