What Is Azure IoT Central?
Seeking enterprise-grade IoT solution equipped with high-end security and scalable capability? If yes, Deploying Microsoft Azure IoT Central could help your business with the optimum level of security, scalability, and extendable capability.
Azure IoT Central Overview
Azure IoT Central is SaaS (Software as a Service) based highly secure, and reliable IoT app platform that helps to deploy enterprise-specific IoT apps with plug-and-play facilitation. It allows businesses to ensure instant connectivity between IoT devices and the cloud, enables for centralized management to effortlessly reconfigure devices, and ensures seamless device interactions while reducing hard-core coding, development cost, and involved complexity level.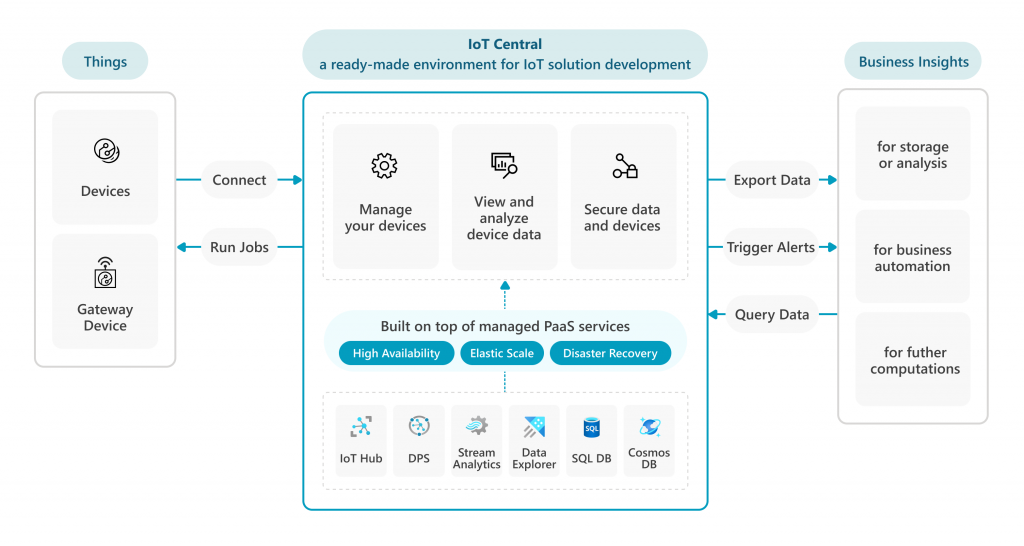 Deploying an IoT solution with hard-core coding expertise requires continuous efforts to update and maintain a system. Azure IoT Central is designed to minimize your deployment hurdles, cost of development, and reduce costs for maintaining your IoT apps or solutions.

This IoT app development platform allows you to enjoy seamless device-to-cloud integration as it reduces the need to write custom code every time whenever any sort of integration comes ahead. It empowers businesses in terms of diverting their focus on transforming their business scope rather than remaining busy in maintaining the complex IoT apps.
Take a quick tour of Azure IoT Central documentation from Microsoft.
Vital Features of Azure IoT?
Easy to Deploy
Quickly create and deploy Azure IoT Central application and customize it suited to your IoT infrastructure. Leveraging this easy-to-use IoT development tool as it comes with built-in industry-specific templates, allows you to create and deploy highly customized and industry-specific IoT solutions to jumpstart with your IoT capabilities.
Quick Connectivity
Establish a quick connection between your IoT devices and Azure cloud to ensure and drive a seamless flow of data in terms of receiving and retrieving messages securely, getting notified instantly, and ensuring other data transmissions with real-time efficiency.
This sort of data connectivity helps to monitor and manage the operational flow and ensure proactive support to prevent machine downtime and ensure continuity across your processes.
See Also – What is Azure IoT Hub?
Easy Customization
Azure IoT Central can be customized seamlessly addressing your specific IoT infrastructure needs. It allows you to customize your application to drive effective day-to-day use. Such custom configuration can help you in different contexts such as:
Customizing dashboards can help to gain insights and resolve the applicable issues instantly.
Customizing analytics can help to explore different capabilities in terms of exploring time series data from your IoT connected devices or equipment.
You can also define your default layout of properties and settings to ensure and drive custom rules to manage your devices as per your specific facilitation and anticipation.
Centralized Management
As the name suggests, Azure IoT Central allows you to seamlessly centralize and manage your devices with scalable capabilities. With centralized management capabilities, you can easily configure, reconfigure, or update your IoT-connected equipment or devices in real-time to support your entire IoT infrastructure or involved hierarchy.
Learn how to create a IoT Central application, watch our Webinar on Azure IoT Central in collaboration with Microsoft IoT team. Watch Now:
Scalable Device Interaction

When it comes to scalable device interaction, Azure IoT Central enables users to build highly secure, reliable, and scalable device interaction to manage seamless data flow between your IoT devices and Azure Cloud. This smoother device interaction in real-time helps to measure machine performance, get notified in real-time in case of failure, or know reconfiguration requirements.
Facilitated with Plug & Play
Reduce the need for embedded coding with IoT Central since it facilitates businesses with plug & play functionality that helps to establish seamless device-to-device cloud integration to support and faster the IoT app launching. Rather than staying indulged in ensuring hardcore development of IoT applications, you can focus more on your operational performance with the help of this plug-and-play capability.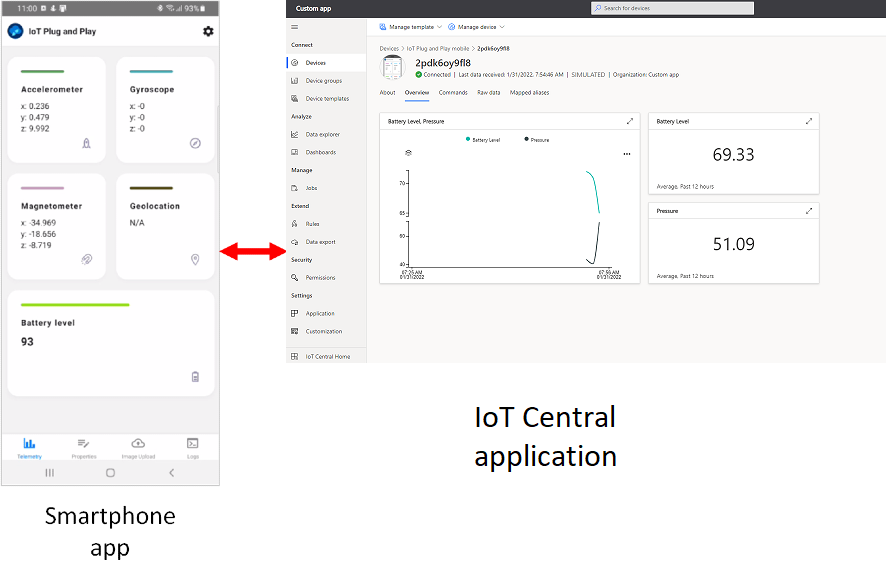 Seamless Integration

When you leverage IoT Central Platform, it allows you to integrate your IoT application with other services too. Using this way, you can transform your data capabilities to generate actionable insights in terms of acquiring machine efficiency, predicting energy usage in the future, or gaining customized analytics to support or smoother your ongoing process flow as well as the futuristic ones.
Simplified Administration
Since IoT Central applications are completely hosted by Microsoft that helps and minimizes the burden of managing your IoT applications. Administrators can effortlessly and effectively manage access to your applications leveraging user roles and set permissions.
Azure IoT Central Industrial Solutions
Retail Industry
An app built using Azure IoT Central can help to gain in-store analytics, enable improved warehousing, build connected logistics, ensure smarter inventory management, improve your supply chain capability, and prevent your business from loss or device failure that helps to ensure a seamless yet productive flow in your retail unit.
Healthcare Industry
Go beyond the operational boundaries of hospital administration. Extend your health care capabilities, reduce inefficient tasks, and ensure serving the optimal service to your patients. Hospital or healthcare units can ensure smarter patient monitoring whether in-patient monitoring or remote patient monitoring.
Energy Industry
With the help of Azure IoT Central, enable smart meter monitoring to acquire billing insights, predict consumption, and track outages to bring an efficient flow in your energy domain. You can also support your solar panel monitoring to track and detect energy generation.
Government Industry
Azure IoT Central can be leveraged to serve the government sector and drive evolution. It can help to monitor the quality level of water supply as well as to remotely control and manage the right supply of water to reduce water consumption. Moreover, track and monitor waste bins and connect field operators to collect the maximum waste which is efficient.
Conclusion
Being an app development platform, Azure IoT Central helps to deploy secure, reliable, and highly scalable IoT apps with plug & play efficiency that can be configured with high-end capability and integrated with other service applications to ensure seamless monitoring, prevention, and proactive support to drive a productive flow across the operational space while reducing costs and bringing operational efficiency.