Dynamics 365 CRM Guide: Overview, Features, Benefits
Microsoft Dynamics CRM is a powerful Customer Relationship Management tool to streamline the entire customer relationship journey. Being a flexible and customisation tool, it offers organisations numerous capabilities, including tracking sales leads, managing marketing campaigns, accelerating sales performance, nurturing sales-ready leads, and customer tracking.
Before getting into the depths of Dynamics 365 CRM, let's know the need for CRM for modern businesses.
Need of CRM for Modern Businesses?
You would agree with me when I say that misplacing a client's information may lead the business to financial loss and might cause the loss of more than one client.
Such scenarios are common in industries with no proactive management applications. We used to see such cases when the sales team relied on performing all tasks manually.
Without proper coordination and sales data, the salespeople try to convert the same prospect altogether, which causes an unfriendly environment for the team members.
With an interactive CRM solution, all such scenarios can be resolved, whether managing the client's data or classifying the leads based on various parameters. Such CRM solutions will replace all the manual tasks in the system, leveraging the power of artificial intelligence and business intelligence to build an uninterrupted flow of sales processes.
As per the business requirements, a suitable CRM solution will help organisations develop, build, and retain a healthy relationship with their customers, whether new or existing. The captured data insights enable the sales team to make attractive offers for new customers and personalised offers for existing customers.
What is Microsoft Dynamics 365 CRM?
Microsoft Dynamics 365 is a CRM tool built to strengthen and simplify the relationship with the customers and make them engaged throughout the sales journey. It enables the salespeople to manage the customer support team, centralise the data, and customer engagement, utilise sales insights, give personalised offers, and much more.
Microsoft offers cloud, on-premises, and hybrid deployment options to all businesses, regardless of the size and type, whether small or large. With cloud deployment, users can manage and supervise the data from anywhere and anytime, making them nurture the sales lead in real-time.
Dynamic 365 CRM enables businesses to organise and manage all customer data, including demographics, age, work status, and income. This application provides seamless features and capabilities to the users, enabling them to contact, track, and record all customer engagement to nurture further.
After the 2016 update, Dynamics CRM evolved into Microsoft Dynamics 365 Customer Engagement, with added powerful features and capabilities. It contains some applications. But, before getting into more details, let's know the history.
History of Dynamics 365 CRM
1. Microsoft Dynamics CRM 1.0 (2003)
Microsoft Dynamics CRM has been with the industries for the last ten years to help them manage customers. Since its launch, Microsoft has continuously worked to enhance its performance and excel in every assigned task. To date, seven versions have been released by Microsoft, which are: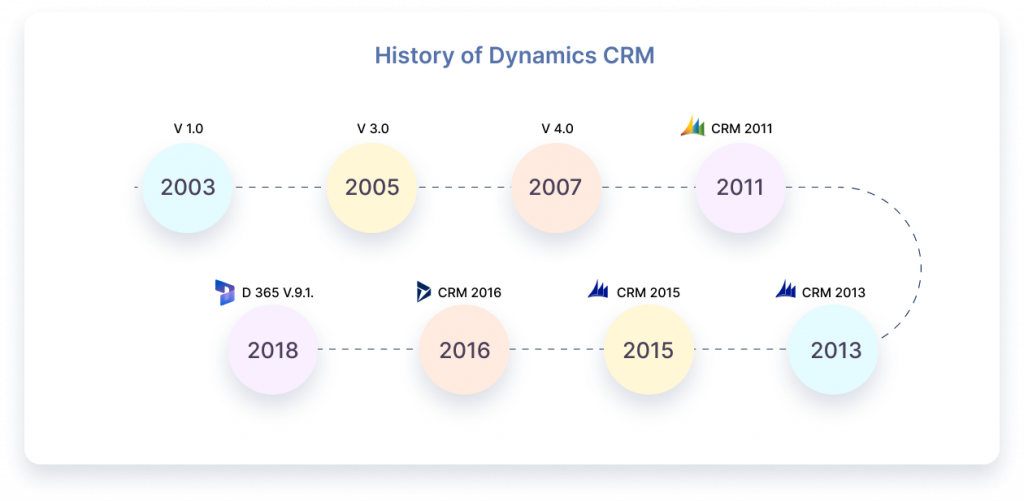 Released in 2003, it was formerly known as Microsoft Business Solutions Customer Relationship Management 1.0 and later changed to CRM 1.0. It enables the customers to view the open activities, access quick-create menus, navigate between different data panels, use sales and service environments, and utilise statistics data.
2. Microsoft Dynamics CRM 3.0 (2005)
To incorporate this version into the Dynamics category, Microsoft changed its name to Microsoft Dynamics 3.0. This version could manage all the customer relationships for small or large industries. It was a powerful tool to aid businesses in streamlining their sales, service, and marketing processes. MS Dynamics CRM 3.0 was the first version to offer server deployment options to organisations.
3. Microsoft Dynamics CRM 4.0 (2007)
Released in 2007 with powerful features and capabilities for companies, including direct mail joining, enhanced data security, importing and exporting insights, unified access to multiple users, and inbuilt support for the Windows operating system. It was the first CRM that supports more than 25 languages and multiple languages to offer this solution to global clients. Also, it came with native app integrations.
The mainstream support of 4.0 and its previous versions ended in 2015 and extended support in April 2018.
4. Microsoft Dynamics CRM 2011
It was the first version with the system's customisation and installation of web resources. The better and more interactive user interface enables the users to get the data insights in real-time, enabling them to take data-driven decisions whenever needed. With this version, Microsoft started releasing updates twice or thrice a year and installing them automatically with cloud deployment.
5. Microsoft Dynamics CRM 2013
MS Dynamics CRM was launched while considering future technologies. It enabled the users to access the MS. CRM using an internet connection irrespective of the device, whether web, mobile, tablet, or PC. Even users can access the data from anywhere and anytime, leveraging the power of cloud deployment. The user interface becomes simple and responsive, providing the same interface across all devices.
6. Microsoft Dynamics CRM 2015
Released in 2015, MS Dynamic CRM comes with a powerful user-friendly experience, access to social engagement, enhanced CRM capabilities, more data security, and much more. This version uses technologies like business intelligence and artificial intelligence, enabling the salespeople to manage the relationship with customers more seamlessly.
7. Microsoft Dynamics CRM 2016
Released in 2015, it has enhanced business intelligence capabilities, data reporting, customer engagement, marketing campaigns, and more. Later, MS. CRM 2016 will be added under one umbrella as Microsoft Dynamics 365.
Dynamics 365 is a power-pack suite containing ERP and CRM applications for overall business management. These apps are classified into categories: sales, marketing, service, finance, commerce, and supply chain. Users can access the standalone app or the entire pack, per their business requirements.
The latest released version available for users is Microsoft Dynamics 365 Version 9.0.
Apps of MS Dynamics CRM
Under Microsoft Dynamics 365 Customer Engagement or CRM umbrella, there are some apps including Dynamics 365 Sales, Customer Service, Marketing, Field Service, Customer Insights, Customer Voice, and Project Operations.
MS Dynamics CRM apps include
1. Microsoft Dynamics for 365 Sales
MS Dynamics 365 Sales enables the sales team to streamline the entire sales process, from capturing a lead to nurturing it. MS D365 sales unify the customer data, classifies the leads based on different parameters, and assign the leads to the sales team to nurture them to make happy client.
This makes the sales team focus less on lead capturing and more on building customer trust, making Dynamics 365 Sales an ideal solution for emerging businesses. The cloud deployment lets users track the processes and operations in real time, allowing users to make an informed decision whenever required.
All sales team members can use a single interactive dashboard from their accounts to make the system similar across all platforms. D365 sales allow the users to utilise the data insights and create personalised offers for the customers. Even the data consumption and reporting are so easy that a nave user can understand the Sales dashboard without external help.
The Top Features of Dynamics 365 Sales:
It helps in nurturing deals faster using personalised offers
Automate manual tasks like sales reports and forecasts
It provides customer satisfaction with reduced response time
Good customer record keeping
It enables users to build strong relationships with customers
2. Dynamics 365 for Customer Service
The Dynamics 365 Customer Service helps the sales team to understand customer requirements, issues, and queries. This application lets the team know the exact requirements a customer is looking for and provides the best solution.
It has various automated applications, like chatbots and customer portals, that handle most of the standard questions with appropriate answers. It closes most simple tickets, allowing the team to resolve complex queries.
D365 Customer Service offers users various assisted services, including customer service portals, one-to-one support, ticket management, and self-assistance. It provides a unified portal where a user can check the customer ticket history, accesses the knowledge base, creates and record customer details of all cases, and much more.
Top features of D365 Customer Service:
Customer tracking based on open tickets
Set priority on queries
Share terms and conditions with the customers
Create dashboards and reports based on customer data and share them with the team
Putting cases on a queue based on priority
3. Dynamics 365 for Marketing
Dynamics 365 Marketing enables users to track and manage marketing campaigns based on data insights. Users can run the campaigns on different platforms and marketing channels to make a mark on all channels' audiences, resulting in more lead conversions.
It centralises the team for successful teamwork and aligns all team members towards growth and a better customer experience. This tool allows salespeople to build and share personalised offers to convert more quality leads with improved ROI.
Dynamics 365 Marketing can create interactive landing pages using a drag-and-drop method for leads who show more signs of conversion. Also, it has a built-in event management function to manage the entire task without any effort.
Top features of D365 Marketing:
Build customer trust more effectively.
Easily integrates the website with CRM.
Build credibility among customers via marketing campaigns.
Helps understand the customer as well as competitor behaviour.
Create reports and dashboards for teams with accurate customer insights.
4. Dynamics 365 for Field Service
The D365 Field Service enables users to deliver on-site solutions to customers with real-time tracking and record management. It caters to various services, including task scheduling, workflow management, record keeping, and automation of manual tasks.
It can manage and track follow-ups, cross-sell opportunities, and pitch up sell products or services to new and existing customers. When it comes to building healthy communication with the customer, D365 Field Service manages it all flawlessly.
Not only users but also customers receive real-time updates and notifications about the status of the ticket. This provides a common platform for the sales team, agent/technician, and customer for a collaborative approach with a seamless issue resolution journey.
Top feature of Dynamics 365 Field Service:
Uses AI to resolve standard queries
Connect customers, agents, and users altogether
Provides real-time tracking of technicians
Enable customers to schedule appointments
Records all data including billing, warranty, terms and conditions, and material
Features of Dynamics 365 CRM
Dynamics 365 CRM offers numerous features and capabilities to users, helping them understand the data insights and build stronger customer relationships. The capabilities can be customised as per specific business requirements. A familiar user interface makes data utilisation more powerful and seamless. Some of the features are listed below:
Centralised User Interface
MS Dynamics 365 CRM offers a unified user interface across all platforms and to all users. With the integrations and specific customisation, users can get clean navigation and layout of data. With the cloud deployment, the data insights are updated in real-time, and if one user makes a change, it will be available to view and edit for other users.
Sales Module
Microsoft Dynamics 365 CRM business software comes with a sales module that tracks, reports, and improvises the methods of sales. It shows exact sales metrics, performance, efficiency, and value reports to get the exact sales scenario of a business.
Activity Timeline
The Activity Timeline tracks all the user's activities, whether small or large. It helps track and finds the exact information or task in case of need. Also, users can use filters to find the specific activity and quickly get the needed information.
Marketing Module
The marketing module lets the users track the marketing campaign, report the data, and calculate ROI. It helps the users to establish a connection with the customers using a personalised message or an offer and retain the existing customers with lucrative offers.
Deployment Options
Microsoft Dynamics 365 CRM offers cloud, on-premises, and hybrid deployment options to all industries, irrespective of their size. In cloud deployment, data servers are deployed on Microsoft Azure servers, making the data accessible 24X7 from anywhere and anytime.
In an on-premises deployment, businesses have to deploy the servers on company premises, restricting access to the data from anywhere. Organisations with proactive data security concerns and huge data servers opt for this option.
Companies that want to access the features of both deployment options use Hybrid solutions for their business.
Data-Reporting
Microsoft Dynamics 365 CRM enables users to submit data requests for clients, activities, contracts, and more. Even with the help of Power BI, users have the privilege to modify and share the data visualisation based on priority. Such graphical insights allow users to understand and utilise the data enabling data-driven decisions. 
Benefits of Dynamics 365 CRM
Dynamics CRM provides a unified platform to facilitate all the customer relationship management processes and operations from a single dashboard. It provides numerous benefits and capabilities to transform the customer relationship as strongly as possible. It has numerous benefits, among which are listed below:
Flawless Integrations
App integration makes the system more powerful and stable while reducing a user's efforts. MS Dynamics CRM allows native and third-party integration leveraging the power of AI, ML, and the cloud. This helps businesses to increase productivity while making employees more efficient.
Dedicated Customer Support
With time, the requirements of customers increase, and it sometimes becomes complex to handle. MS Dynamics allows users to regulate and classify queries based on priority easily. Users can even create tickets for queries or issues with real-time status accessible to the customer and the team.
Data Security
The CRM Microsoft Dynamics 365 is built on a fully secured platform with the trust of Microsoft. With on-premises and cloud server deployments, the data remains secure throughout the data flow from one port to another.
Easy Scalability
Company growth demands more resources to tackle the complexity of processes and operations. With cloud deployment, the business can increase the performance and capacity of the servers at any time by contacting their dynamics 365 implementation partner.
Dashboards
A business has a huge database of customers based on different parameters and categories. Users must classify the data based on their needs and utilise it for a better customer experience. MS Dynamic CRM allows users to create and share dashboards based on classified data, making data utilisation simple and smooth.
Add-on capabilities
MS Dynamics CRM allows users to automate complex and manual tasks with 200+ apps and services. All the business applications are equipped with App-source, which makes installing or integrating the available apps easier.
Pricing and Licensing of Microsoft Dynamics CRM Pricing UK
The Dynamics 365 CRM license and the pricing of all apps are based on a subscription model. Users can avail of the whole Dynamics 365 app or a standalone app every month. The pricing of these apps is listed below:
Sales 
Per user/month 
Subsequent Pricing for any tenant (user/month) 
Sales Professional 
£53.40 
£15.10 
Sales Enterprise 
£78.10
£15.10 
Sales Premium 
£111 (Now includes Microsoft Sales Copilot)
Microsoft Relationship Sales 
£133.20 
| | | |
| --- | --- | --- |
| Service  | Per user/month  | Subsequent Pricing for any tenant (user/month)  |
| Customer Service Professional  | £41.10 | £15.10  |
| Customer Service Enterprise  | £78.10 | £15.10  |
| Field Service  | £78.10 | £15.10  |
| | | |
| --- | --- | --- |
| Marketing  | Per user/month  | Subsequent Pricing for any tenant (user/month)  |
| Marketing  | From £1,397.30 | From £821.90 |
If you want to check out whether these apps are suitable for your business or not, you can avail Microsoft Dynamics CRM trial free for 30 days.
To get the trial offer, go to Microsoft Dynamics 365 CRM trial page and select the app you want to access; as shown in the below picture.
Select the app you want to use as a trial and click on Try for Free button.
Once you click on it, a pop-up will be displayed containing further details to access the trial; as shown in below picture.
Enter the e-mail ID and you can start using your free trial.
Dynamics 365 CRM Integration
Many apps, whether native or third-party, are available for Dynamics 365 CRM integrations. Such integrations with other apps make the data flow smoother and aid the sales team in enhancing the customer support experience.
This application has numerous features and capabilities, but with D365 CRM integration, the system becomes more efficient, powerful, and fluent across all devices.
Managing many customers and replying to their queries on time might become tedious as you have to check Outlook or any third-party email app frequently to stay updated. To streamline the mailing issues, users can integrate Dynamics CRM with Outlook 365 and manage all mailing requirements from Dynamics 365 or any CRM application.
By integrating Outlook 365 for Dynamics CRM, users can avail of various features, including receiving emails in real-time, getting additional information about email recipients, setting appointments and meeting notifications, tracking email status, creating new records, and much more.
Also, Microsoft Dynamics CRM Online integration with Office 365 offers immense capabilities for enhancing productivity, relationships with customers, maintaining real-time data, tracking activities, and much more.
Microsoft Office 365 contains numerous apps, including Excel, PowerPoint, and Word, to help increase the overall efficiency of users, and the integration of Microsoft Dynamics CRM with Office 365 simplifies sales, marketing, and customer support operations.
Comparison of Microsoft Dynamics 365 CRM with others
Microsoft Dynamics 365 CRM is a complete relationship management application to manage customers by assisting them with their entire sales journey. It is an ideal tool for businesses to manage the sales and marketing departments, making the processes smooth and efficient.
Other CRM tools are available on the market with the head-to-head competition with Dynamics 365 CRM. It is important that you should be aware of all the top comparisons to select the right CRM for your business to boost growth and scalability.
Dynamics 365 CRM VS Salesforce CRM
Salesforce is one of the top-performing CRMs available in the market. It assists users with the sales process and provides seamless team collaboration. It is the top competitor of Microsoft CRM, and the details of Dynamics 365 CRM VS Salesforce are listed below.
| | |
| --- | --- |
| Dynamics 365 CRM  | Salesforce  |
| Flexible and low-cost pricing structure  | High-cost pricing model  |
| Best CRM for SMBs  | Best for Large organisations  |
| Cloud and On-premises deployment available  | Only Cloud deployment is available  |
| Simple and responsive interface  | A bit difficult user interface  |
| Availability of Operations Management features  | Operations Management features missing  |
| Responsive user experience across all devices  | Slightly different user experience across devices  |
| Unlimited technical assistance  | Limited assistance and support  |
| Offer good customisation (native and third-party)  | Offer native customisation only  |
Dynamics 365 CRM vs Dynamics 365 Business Central
| | |
| --- | --- |
| Dynamics 365 CRM  | Dynamics 365 Business Central  |
| CRM (customer relationship management) solution for small and large industries.  | ERP (enterprise resource planning) solution for SMBs.  |
| Built to manage sales, marketing, and customer experience.  | Built to manage business processes of finance, manufacturing, shipping, and more.   |
| Advanced level solutions to track, acquire, and convert leads  | Entry level solution to manage basic operations  |
How to choose the right Dynamics 365 CRM Partner?
In the market, numerous Dynamics 365 CRM partners are available that claim to be the right choice for Dynamics CRM implementation, irrespective of the industry. But we insist you research various parameters, including the company's portfolio, the industry they serve, customer support, reviews from past clients, and the kind of implementation they offer (standard or customised).
Before choosing the right CRM Partner. A suitable Microsoft Dynamics CRM consulting will help you grow your business, but a wrong choice would cause the business to suffer financial loss with a decline in growth.
With over 12+ years of experience, Dynamics Square is the leading Microsoft Dynamics 365 CRM consultant in the UK, providing its seamless services to small, medium, and large industries. With a team of 135+ experienced professionals, we offer our clients a range of services, including the right CRM selection, implementation, migration services, and reporting. We have a proven Microsoft Dynamics CRM consulting track record in delivering successful projects for our clients, and our team is passionate about providing the best possible service. We are committed to providing our clients with the best possible experience. Contact us today to learn more about how we can help you improve your customer relationships.
Dynamics 365 CRM FAQs
1 . Is Dynamic CRM SaaS or PaaS?
SaaS stands for Software as a Service, and PaaS stands for Platform as a Service. The Microsoft Dynamics CRM works on SaaS model in which the application is hosted by the service provider and made available to users.
2. What is Dynamic CRM used for?
Dynamics CRM is a customer relationship management solution used to streamline the relations between the customer and company for the utmost user satisfaction and user experience. It can manage the organisation's sales, marketing, and customer service.
3. What is Microsoft Dynamics 365 Sales?
It is a CRM application under Microsoft Dynamics 365 that enables the sales team to build strong customer relationships and cater for them with the best service leveraging accurate data insights.
4. Is Microsoft Dynamics CRM being same as Dynamics 365 Customer Engagement?
Before the 2016 update, the CRM solution offered by Microsoft was known as Dynamics CRM, but after the update, it was renamed Microsoft Dynamics 365 Customer Engagement (CE).
5. How much Dynamics 365 Sales cost?
The pricing and licensing come with a monthly subscription model. Users have to pay a monthly fee per user basis. The Dynamics 365 Sales Professional costs £53.40, Dynamics 365 Sales Enterprise costs £78.10, Dynamics 365 Sales Premium costs £111 (Now includes Microsoft Sales Copilot), and Microsoft Relationship Sales costs £133.20.