9 Benefits of Microsoft Dynamics 365 Customer Service
Microsoft Dynamics 365 Customer Service is a simple yet powerful tool to manage and track customers across the customer journey. It empowers a business to offer a great customer experience - from the day of becoming a prospective customer to offering support services after closing the deal.

If you are associated with any business, you must understand the value of acquiring new customers and retaining them for a long time. If you knew this, you would understand the efforts and resources a business invests in offering a good customer experience.
Organisations know that offering robust customer service is the key to building a sustainable business, along with generating more and more revenue, leaving all odds behind. This is the key to overpowering the competition and acquiring more market share.
What is Dynamics 365 Customer Service?
Microsoft Dynamics 365 Customer Service is a CRM (customer relationship management) solution to help businesses offer an interactive customer experience throughout the customer acquisition process and beyond.

Customer Service is a powerful solution that helps a business understand the entire customer journey. It helps you acquire new customers and retain them through different customer service methods.  
Microsoft Dynamics 365 Customer Service aligns with the uniqueness of the business and establishes a bridge between it and the customer. This will empower the business to add more value to the customer while retaining them and making them loyal to the business.
D365 Customer Service empowers the business to communicate with prospects, nurture them, and offer continuous customer service even after acquiring them.
In general, there are 4 types of Customer Service available for all businesses:
Reactive Customer Service: In this, the customer reaches out to seek support.
Proactive Customer Service: In this service, businesses reach out to offer customer support. It is generally used to enhance sales and maintain a good reputation with customers.
Synchronous Communication: In this, a business establishes communication with customers in real-time, like a phone conversation.
Asynchronous Communication: It is a discontinuous communication mode with customers, like text, email, or chats.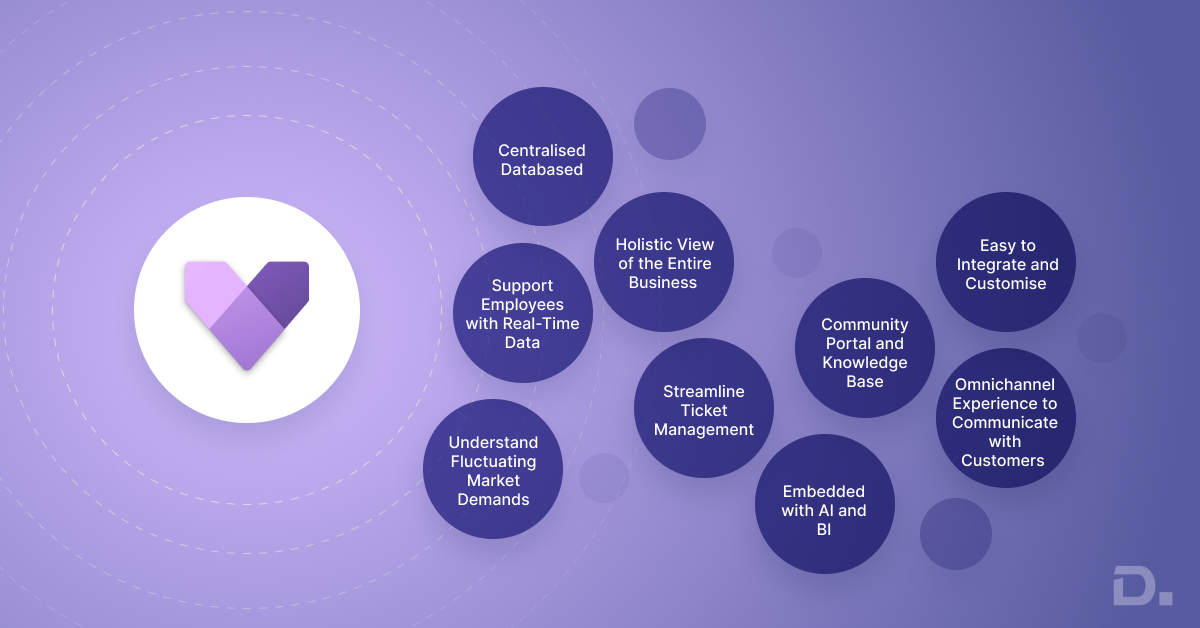 Top 9 Benefits of Microsoft Dynamics 365 Customer Service
Microsoft Dynamics 365 Customer Service offers various capabilities and benefits, among which the most popular are given below:

1. Centralised Databased
Being a cloud-based solution, Microsoft Customer Service offers a centralised database to connect different departments, processes, and people. This will eliminate the chances of errors, mistakes, and miscommunication.
With this solution, you can easily track all information from different sources, including email, calls, chats, client records, knowledge portals, and tickets. Such unified information empowers the business to understand the exact customer demand, resulting in the highest level of customer experience.
2. Support Employees with Real-Time Data
You can easily get real-time data on any customer across any milestone of the sales journey. This will help you understand the fluctuating customer needs throughout the customer journey. Also, D365 for Customer Service empowers employees to build an end-to-end case management ecosystem.
With real-time data analytics, your employees can make strategic decisions to offer a great customer experience. You can even update your customers about the status of their ticket in real-time.
3. Help Business Understand Fluctuating Market Demands
We all know that the market is subject to fluctuation due to changing global conditions. This can affect the entire product lineup and inventory you have in stock. However, with Dynamics 365 for Customer Service, you can track all market changes and customer demand to align different business operations with the fluctuations.
Once you understand the market and the customer, you will be able to offer the aligned customer experience that your customer is waiting for. This makes you value the customer and support them with any query they may have.
4. Offers a Holistic View of the Entire Business
Businesses have different, discrete systems that need to be connected to form a unified system. Dynamics 365 for Customer Service eliminates the data silos, connects different solutions altogether, and offers a 360-degree view of the various business operations.
With Microsoft Customer Service, you will be able to offer personalised customer service at each milestone of a customer's journey. This will make you a reliable and trustworthy brand. Also, you can view the customer profile, see previous interactions, and track the status of current tickets.
5. Streamline Ticket Management
Ticket management is an essential task for all businesses. Dynamics 365 Customer Service allows you to manage, control, and track all tickets while enhancing the overall productivity of the support team. You can see all current and previous tickets in the Customer Service Hub.
It even allows the agents to work on multiple tickets at once, enhancing the overall efficiency of the business. All
Microsoft Dynamics 365 CRM
and
ERP solutions
offer an interactive and simple dashboard that enables you to manage your entire work from a single screen.
6.  Comes with a Community Portal and Knowledge Base
Microsoft offers a community portal and knowledge base that contain almost every piece of knowledge related to Customer Service. It empowers the customer as well as the agents to resolve the issue in no time. Also, you can publish your articles and update them whenever required.
The Dynamics 365 Customer Service Community Portal is a kind of form where different users can communicate with each other to resolve their queries without even opening a ticket.
7. Embedded with AI and BI
Access the capabilities of AI (artificial intelligence) and BI (business intelligence) to avail of automation, eliminating recurring and manual processes. Also, you can use AI to assign different tasks to the capable agent, making issue resolution smoother and faster.
Microsoft Dynamics 365 Customer Service enables employees to access data through an AI-powered engine so that they can understand the data and suggest the best possible solution without any hassle.
8. Easy to Integrate and Customise
We have a Microsoft Dynamics ecosystem that contains various applications to deal with the specific purposes of a business. The best part of being a part of the
Dynamics 365 suite
of applications is that you can easily integrate native Microsoft applications to enhance the overall capabilities.
When it comes to customising a Dynamics 365 ERP or CRM solution, Microsoft offers a lot of flexibility. With the help of your
Microsoft Dynamics implementation partner
, you can make the desired customizations to align the solution with your unique business needs.
9. Avail Omnichannel Experience to Communicate with Customers
Sales representatives access different sources of communication channels to establish communication with the customer, which include text, phone, chat, and email. Customer Service connects these channels and offers an omnichannel experience to the agent, which leads to centralised communication data and an enhanced customer experience.
Customer Service will collect the data of a customer from different channels and show it to you on a single dashboard. It eliminates the efforts a customer representative puts into collecting and analysing the data.
Microsoft Dynamics 365 Customer Service Licensing
Currently, Microsoft offers two licensing plans for it:
Microsoft Dynamics 365 Customer Service Professional
Microsoft Dynamics 365 Customer Service Enterprise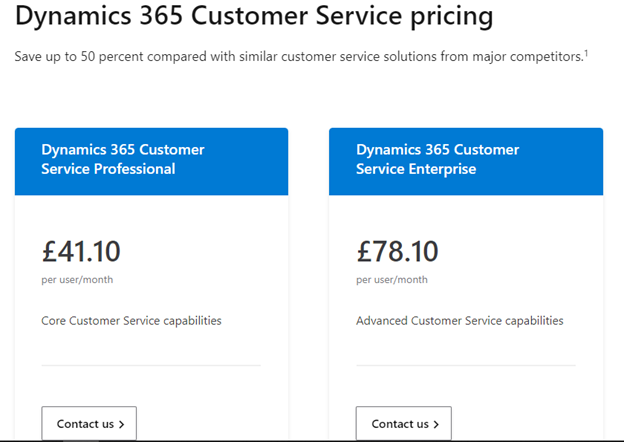 Based on your business requirements, you can avail yourself of any of the desired plans. Also, you can access the Dynamics 365 Customer Service trial to check out its powerful capabilities.
Along with D365 Customer Service, you can also integrate other add-ons to make customer service more productive.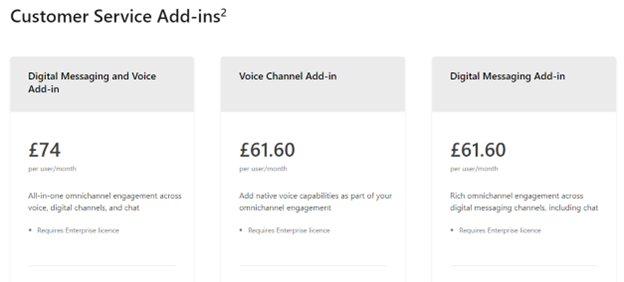 How can Dynamics Square help you with Dynamics 365 Customer Service Implementation?
Modern businesses understand the core components of doing business. They realised that prioritising customers among all business operations is the key to building an impactful business while leaving the competition behind. In such a scenario, Dynamics 365 Customer Service is the perfect option for you.
With 500+ global clients and 150+ Microsoft-certified technical consultants, Dynamics Square is available to
implement Dynamics 365 Customer Service
in your unique business. With years of Microsoft Dynamics 365 experience, our expert consultants are just a call away to understand your business and customise this solution to align it with your business needs.
In case of need, write us a mail to info@dynamicssquare.co.uk or call us '
+44-207-193-2502
' directly for instant help. 
Other Articles -