Microsoft Fabric: Unleash the Power of Data with AI
Microsoft Fabric; a simple yet powerful data analytics SaaS-based solution to harness the power of data with ease. Before learning more about this solution, let's discuss the importance of understanding and utilizing data. 
You may have heard or read this phrase somewhere: "Data is the king". But I think it is incomplete. Let me complete this: the one who can harness the data is the king.

We live in a digital environment where data is flowing like the air in the atmosphere. We are not just getting data from transactional systems of records, but we are also receiving data from the world around us, the devices we use, our personal interactions with different applications, and many more resources we can't even imagine.
Our lives are locked in different data packets that are functioning as fuel for modern businesses. And the irony is that we are offering the data to all businesses, whether intentionally or unintentionally.
Accepting and utilizing data is one of the major challenges most businesses are facing. They are unable to decode the large sum of data and build a competitive advantage. This process isn't easy, but leveraging the data can make it simple and smooth.
Modern businesses use different applications to leverage such data, and Microsoft offers a portfolio of data analytics applications that empower users to decode the data and properly utilize it.
Based on current Microsoft data, 420,000 global organisations are using such applications, 33 exabytes of data have been transferred on behalf of customers, and 8 trillion messages are being processed every single day.
Isn't this data huge?
Regardless of the complexity and amount of data, Microsoft is successfully handling this data with its powerful and effective technological advancements.
One of the crucial factors that is empowering Microsoft to build such powerful data analytics applications is aligning AI with Power BI and similar data analysis applications. AI is powering such applications to eliminate redundancies and refine the data to offer precise data insights.
When it comes to popular AI solutions, ChatGPT is the one built by OpenAI with the collaboration of Microsoft that enables customers to find useful and accurate data in a few seconds, sometimes better than the Google search engine.
Microsoft 365 Copilot and ChatGPT are AI solutions based on generative AI and language model services that aid customers, developers, and businesses to find solutions to their issues with ease.
You must be thinking that AI can overpower all existing and future technologies while becoming an essential part of them all, but this isn't the complete truth. AI is good until the data it works on is good. If you put garbage in it, you will get garbage out.
To accelerate data understanding and utilisation, you need to supercharge the analytics using AI while connecting all disconnected processes, applications, and devices.
Once you connect all systems, data, devices, applications, people, and processes, you will start getting the data that will give you a competitive edge over other competitors in the market.
But how can this be possible?
Below is the answer.
Introducing Microsoft Fabric
Microsoft Fabric is a data analytics solution that embraces the power of AI to unify and connect the entire data of an organisation. It follows a simple process of converting the raw data into insights.
Microsoft Fabric empowers users, developers, and decision-makers with everything they need, whether it is tools or certain resources, to boost a business towards great success.

This is a SaaS (software as a service) solution that you can access in a matter of a few seconds by simply signing up to get real value in minutes.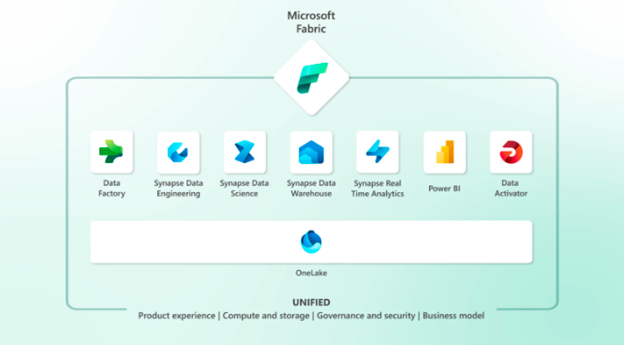 Whether you're a data scientist, a data engineer, a data warehousing professional, or a BI professional, Microsoft Fabric is available for you and offers the data you need to succeed in business.

It is so powerful that it easily integrates with Microsoft native technologies, which include Power BI, Azure Data Factory, and Azure Synapse Analytics. The combination of these technologies empowers businesses to find, understand, and utilise the power of data.
Microsoft Fabric embraces a lake-centric and open architecture that builds a single source of truth for the entire organisation.
However, with Fabric, Microsoft has launched OneLake too. It is a single, unified data lake for the entire organisation that acts like Microsoft OneDrive, but for your business data.
Microsoft makes sure that every piece of data in OneLake moves your business forward through tools like Power BI, which comes with a deep integration with Microsoft 365.
See Also - SharePoint Integration With Power BI
Once you have the connection, the entire data and Fabric automatically flow into Microsoft Teams, Excel, PowerPoint, and SharePoint. Fabric will ensure the availability of the data in the applications you generally use.
Microsoft will power the entire integration and connection of different applications with Fabric using Azure's open AI Copilot. This will enhance the productivity of users while helping them find useful insights from their data.
Regardless of the type, size, users, and complexity of processes, you cannot have two Microsoft Fabric in the organisation. Just one Fabric, and you are good at dealing with all data analytics queries.
This empowers Microsoft to offer a simplified licencing option; your entire organisation will work as a tenant. It isn't based on the number of users, like most of the Microsoft Dynamics 365 applications.
See Also - How To Understand Sales Insight Using Power BI & Dynamics 365?
Microsoft Fabric and Microsoft Co-pilot; a Smooth yet Powerful Integration
Microsoft Fabric allows you to work end-to-end across different personas. No data movement whatsoever. Embedded with AI, Microsoft Fabric helps you unleash the power of your data. With Copilot built into every data experience, Microsoft Fabric allows you to use natural language to make your data come alive.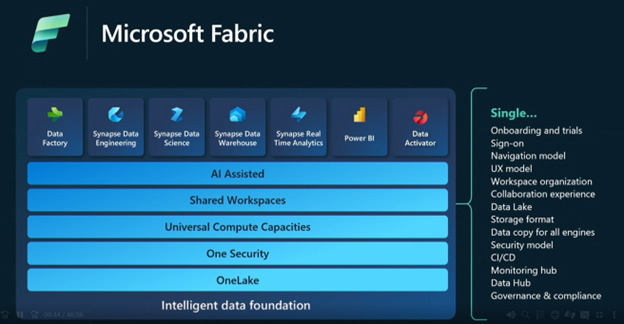 From connecting data to coding to discovering insights and generating reports, new revolutionary AI experiences work with you every step of the way, so you can concentrate on getting value from your data.

Copilot helps you transform your words into data flows and data pipelines, so you can smartly integrate data from anywhere.
When coding, Copilot automatically suggests code and entire functions in real time, and Copilot can assist you in creating machine learning models to unlock insights in your data.
Just by chatting with Copilot, you can visually explore your data to create stunning reports, discover insights, and summarise your data into easy-to-understand text narratives for sharing.
With Copilot, you can turn insights into action with triggers that monitor your data and notify users. You can even create your own custom natural language experiences that combine Azure OpenAI models and your organisation's data and easily publish your creations as plugins.
And with your data in Fabric, Copilot provides insights and answers everywhere work gets done.
Is it a Complete Data Analytics Platform?
Microsoft Fabric is a complete data analytics platform that harnesses the power of advanced technologies, including AI, BI, IoT, and mixed reality. It isn't an upgraded data analysis tool, but Fabric is a complete reimagination and re-architecture platform built on existing technologies.
It is an all-in-one SaaS solution capable of running complex workloads at once, whether you must find a piece of data or submit governance and compliance.
It's a centralised platform capable of tracking all processes and monitoring a job with real-time insights. Microsoft Fabric is a single product that can fulfil all your data analytics needs.
The UI (user interface) of Fabric is similar to Microsoft Office, which makes integration and optimisation simple and effective.
Like Office, you need to set the Microsoft Fabric centrally, and then every project, developer, and policy are going to be applied to all processes automatically.
The data centralization of Fabric enables different users, like BI analysts, data engineers, data scientists, and data warehousing administrators, to work together while accelerating business growth.
Get Started with Microsoft Fabric
Currently, Microsoft Fabric is available in preview mode for the public. You cannot implement it now, but you can access the trial to try everything Fabric has to offer for your business.
If you are an existing Power BI Premium customer, you can simply access Fabric trial using the Power BI admin portal. In the case of other licencing options, you will be able to access Fabric on July 1, 2023.
For more information about Fabric or any Microsoft Dynamics 365 applications, feel free to contact Dynamics Square at +44-207-193-2502 or call us directly at info@dynamicssquare.co.uk.

Other Post -