Microsoft Cloud For Sustainability: Deliver Real Progress Towards Net Zero
Microsoft Cloud for Sustainability is a powerful tool to help sustain climate changes and reduce environmental impacts. It offers centralised and comprehensive data by converting the manual processes of collecting sustainability data to automation. Before getting into Microsoft Cloud for Sustainability, let's understand its need and impact on modern organisations.
Why do Businesses Need Microsoft Cloud for Sustainability?
One of the primary reasons behind environmental and climate change is the depletion of natural resources. This is making lives harsh for all, whether human or animal. Each of us can feel the impacts of climate change in our day-to-day lives.
Pollution, poverty, population, fossil fuels, deforestation, poor air quality, undrinkable water, and other resources are all increasing and have a direct impact on Mother Nature. If such resources kept decreasing, there would be no nature, climate, or environment to live in for future generations.
Globally,
The temperature is increasing by 0.85 degrees Celsius per year.
The average sea levels are up by 19 cm.
Carbon emissions have increased by 50%.
Glaciers are retreating.
11.65% of global deaths are caused by air pollution.
Intense events like rainfalls, storms, earthquakes, heat waves and more are increasing.
These numbers are increasing daily and need to be reduced immediately. We must collaboratively work together to facilitate such large numbers and sustain our environment.
The leaders and business influences have to come forward and take this initiative to the next level. Recently, Deloitte published a report based on 2000+ business leaders and organisations from 21 countries to analyse the concerns about environmental sustainability and the list of actions these people are implementing to achieve their sustainability goal.
As per the survey, leaders are concerned about reversing the effects of climate change and its impacts on the environment by opting for renewable energy sources. However, they have admitted the huge gap between goal planning and implementing actions to achieve it.
Microsoft offers the opportunity for such leaders and organisations to accelerate and track their goals' progress using the Microsoft Cloud for Sustainability. This powerful application opens new capabilities to transform the sustainability journey at different levels.
Microsoft Cloud for Sustainability enables organisations to track emissions, carbon footprint, and sustainability goals. Also, it authorises the organisations to power up the progress of sustainability and takes collective measures for the growth of the business by combining the social, environmental, and governance capabilities. 
Sustainable Infrastructure
The Sustainability Manager allows users to replace tools, processes, operations, and systems with more efficient resources to save energy and natural resources.
Migrating the servers from on-premises to the cloud using Microsoft Azure can reduce carbon emissions and save energy. However, organisations will need a vendor partner to implement Azure.
Measuring the sustainability impact is a neat task when done manually. Still, with Microsoft Emissions Impact Dashboards, we can measure it by migrating the servers to the cloud. This dashboard is capable of providing accurate emission data linked with Microsoft Azure.
Figure 1: Microsoft's carbon emissions impact dashboard
Centralise Data Insights
Organisations face many issues in collecting, recording, and centralising sustainability data in a simple, actionable format. Microsoft Sustainability Manager can help organisations unify, read, and understand data and track all steps of plan implementation.
The Sustainability Manager allows us to centralise all emissions, footprint, and impact data for seamless reporting and sharing to aid the sustainability goal.
The centralised data of impacts and emissions provides a rich data consumption experience, making the entire process of environmental sustainability hassle-free with simple calculation and integration, assisting businesses in better transformation.
Figure 2: Microsoft Sustainability Manager Insights

Reducing Impacts
It is evident that all organisations know the processes and operations impacting the environment harshly and the possible ways to reduce, replace, or remove such methods.
Microsoft Sustainability Manager offers solutions to reduce the regular consumption of energy, replace manual processes with automation, upgrade tools, collaborate with others, and more. Microsoft Cloud for Sustainability tracks and reports the environmental impacts of the organisations and helps them reduce their emissions and footprints.
Sustainable Value Chain
It is essential to manage the value chain, and it should be because of accurate upstream and downstream data. Generally, most of the data is collected through surveys and suppliers to help the organisation become more sustainable regarding the environment and climate change.
With the help of Microsoft Sustainability Manager, organisations can collect data using automation with the help of other suppliers.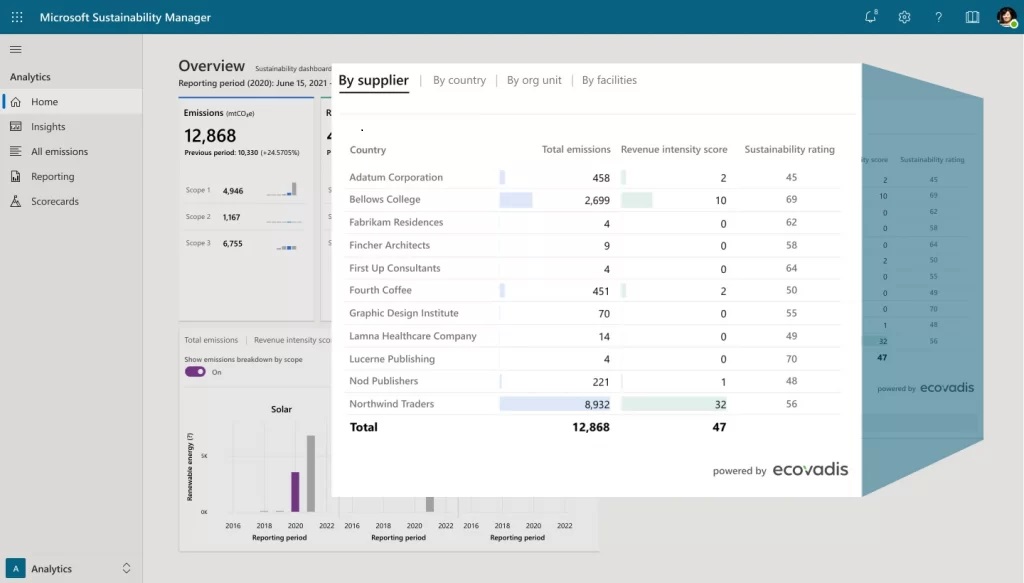 Figure 3: EcoVadis and Microsoft Sustainability Manager providing supply chain insights.
What is Microsoft Sustainability Manager?
Microsoft Sustainability Manager is the latest launched application to help organisations simplify their sustainability process by offering centralised and integrated data insights to accelerate the environment sustainability journey.
It is a SaaS (Software as a Service) application to share real-time data sources, boost reporting and integration, accurate carbon emission data, and measure progress to help decision-makers make efficient and robust decisions to preserve the environment.
Sustainability Manager is compatible with any business type helping them unify the data and applying the Microsoft Cloud for Sustainability data model to remove the uncertainty of the data.
With the power of Microsoft Azure and Power BI, the features and capabilities of the Microsoft Cloud for Sustainability can be extended to create a customised solution.
It allows the organisations to get real-time data insights into emission processes, environmental impact, and sustainable initiatives to help them transform their business for the environment.
Record
It accurately collects all emission footprints data of an organisation's processes or operations using automation and direct data connections.
It disintegrates the data structures.
Collect data using automation.
Unifies data from different resources.
The standard procedure to calculate GHG emissions.
Calculate emissions and footprint data precisely.
Report
It manages, visualises, analyses, and reports the consumption of resources, their impact on the environment, and real-time sustainability progress.
Simplifies the data visualisation.
Actionable data insights.
Configurable preparatory reports.
Analyse the impact of resources on the environment.
Track sustainability progress in real-time.
Reduce
It helps organisations take action to reduce emissions and set goals for it. Also, users can track the progress and updates in the sustainability data model.
Sustainability goal setting and scorecards
Collaboration with Microsoft Teams.
Helps reduce emission targets.
Set and track sustainability goals.
Assimilate sustainability data insights.
Looking to Sign Up for a Free Trial?
You might be in a dilemma about the capabilities and user interface of the Sustainability Manager and whether it would work for your organisation or not. If so, you can avail 30 days trial of Microsoft Sustainability Manager free of cost. The process to get this trial is discussed below:
Go to the "Microsoft Cloud for Sustainability" page and click on Try for Free button; as shown below:
Enter the email address and follow the on-screen guidance to avail of the offer. The trail will be ready in a few minutes to be used.
After signing up, the user will have access to the whole application with dummy data to understand the application better. You can also provide your organisation's data to see how it works in real-time scenarios.
Microsoft Sustainability Manager Pricing
Explore the Microsoft Sustainability Manager pricing for businesses and organisations.
Sustainability Manager Standard Pricing: 3220.88 GBP (Per Tenant/Per Month)
✔️ Dedicated Customer Support
✔️ Microsoft Sustainability Manager Solution
✔️ Microsoft Cloud for Sustainability Data Model
How to Buy Microsoft Cloud for Sustainability?
The process of buying the Microsoft Cloud for Sustainability is easy. The organisation has to contact any Microsoft authorised vendor partner, like Dynamics Square, to implement Microsoft Sustainability Manager as per the organisation's requirement.
Licensing
The organisation needs to get two different SKUs: the tenant-level SKU and the user-level based SKU. The tenant has to deploy one SKU to Microsoft Sustainability Manager and another for each user in the tenant as Microsoft Sustainability Manager USL.
Microsoft Cloud for Sustainability FAQs
Before availing of the trial version of Microsoft Cloud for Sustainability, you must be surrounded by several questions. This section covers a few such questions:
How do I start to use the trial?
If you are new to Microsoft products, your vendor partner will help you quickly learn and understand the product. If you want to learn it yourself, you can use the product-guided tours available on the application's Home Page.
Also, you can use the Configuration Guide to start learning the analytics and capabilities of Sustainability Manager using your data.
How do we remove sample data from the trial?
Sample data can help you understand the app without feeding your data. You can follow the below steps to remove sample data:
Open Microsoft Sustainability Manager and select the Settings Sitemap option. Click on the Startup Settings page. Now, select the Remove Data button, and all your sample data will be removed in a few minutes.
How do I sign up for the trial without a Microsoft 365 tenant?
To sign up with Microsoft, you must use a work or office email ID. If you don't have a work or office ID, you need to sign up for a free trial of Microsoft Dynamics 365. After that, you can use the respected email ID to sign-up with Microsoft Sustainability Manager.
Can I convert the trial to a paid license?
You can easily convert your trial version to the paid version by buying the Sustainability Manager as part of an EA (Enterprise Agreement). Also, you can contact a certified vendor partner, like Dynamics Square (a Gold Vendor Partner).
Is the configuration guide available only for trials?
No, the configuration guide will be available throughout the journey of using Microsoft Sustainability Manager.
What are the system requirements to use Microsoft Cloud for Sustainability?
You don't need any system with special requirements to use this app as it is a cloud-based app and can be operated easily using a web browser and an internet connection.
Can I sign up for other Microsoft Dynamics 365 apps?
Yes, you can download multiple business management apps from Microsoft, like marketing, sales, customer service, finance, human resources, and more, using the same email address. You can check out all trials from the trial hub page.
How do I add more users to a trial?
Go to Microsoft 365 admin centre and follow the admin centre guidelines to add the required users to your trial account. Also, you can set the role and security of the user as per the organisation.
Why did my trial expires before 30 days?
If there's no activity in your trial account for the last 14 consecutive days, your trial will expire. Also, you will get an email notification when there has been no activity for the last seven days. To explore the trial period again, sign up with a new email ID.