ERP Systems For Small Businesses – 2023
Whether you run a big organisation or a small one, smoothness in operations and efficient results are something that everyone hopes for. Hence, there are several software and tools available to help you maintain the quality and efficiency of your firm's operations. For such a reason, some organisations prefer to use the best ERP systems today.
While when you are hunting for the top ERP systems, you can come across a wide number of options available. But how do you know that these top systems are best for your organisation?
Hence, to get the best ERP solutions, it is essential that you do a good amount of research and also compares the tools to understand which one is the right one for you.
Selecting the best ERP Solutions
When you have decided to get the best option of ERP systems, here are some factors you should consider.
● What are your Requirements:
The first factor you need to understand is whether the features and functions offered by the popular ERP systems selected by you match your requirements. There is no use when you get a system that cannot fulfil your organisation's requirements. Hence, have a check of this for this.
● Service and Support:
Make sure to go through the reviews of the system to understand whether the tool is worth relying or not. Trusted customer reviews who have used the system are the best option to choose the righ ERP system. Also, make sure to get a system that offers a reliable support system after buying the tool. Usually, the best names, such as Microsoft ERP software, offer great community support for all users.
● The Pricing:
Also, it is essential to check out the tool's pricing before getting it. There is no such requirement to exert pressure on your budget. There are ample options to get the cost-efficient one for your organization. Many top ERP solution options offer a free trial so that you can know them well before buying them for your further usage.
While there are so many ERP options available, it is always a great idea to get the right ones specially designed for offering your small business house a lift.
Here are the top 10 ERP Systems you can consider this 2023 and beyond.
1. Microsoft Dynamics 365: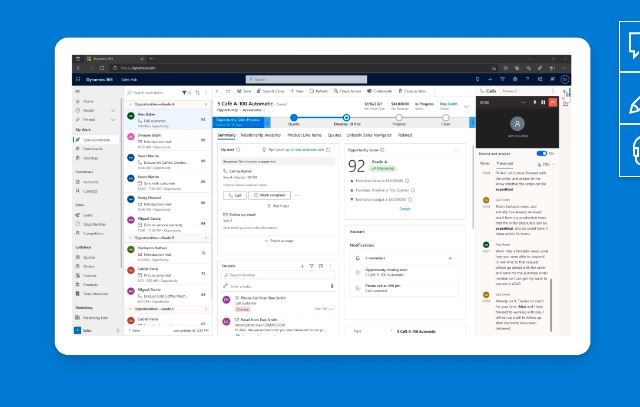 source – microsoft.com

Another name that you will come across when you are searching for the best options in ERP solutions is Microsoft Dynamics 365. Backed by the reliable brand name of Microsoft, this Microsoft ERP solution is a well-known option and is again used by several small business houses in different parts of the world.
Microsoft is known to offer some unique features and one of them is an incredible combination of ERP and CRM solutions. This cloud-based platform can get integrated well with the current business applications and can offer a budget-friendly solution for your business.
2. Oracle Netsuite:
source – netsuite.com

When looking for a reliable ERP solution, one name that comes up on the top is Oracle NetSuite. This cloud-based platform offers several applications for several sectors of your organization, such as accounting, HR, and even ERP.
The name of Oracle is now known in as many as 200 countries worldwide due to its several professional features that benefit several small organizations. The tool offers you to have a free trial of the functions first so that you can understand whether you require this for your firm or not.
When you are satisfied with the functions of the tool, then you can buy the tool that is available at a cost-efficient price.
3. SAP Business One:
source- sap.com

SAP is another name that can be highly relied upon for software options. SAP Business One is a highly beneficial name for small business houses and medium-sized organizations.
The tool is highly active as it collaborates all the data and offers you the right insights in real-time to make the right decisions at the right time. It helps you in saving time and resources and making cost-efficient decisions.
The dashboard of the tool is such that it is extremely efficient for various sectors of the firm, such as purchasing, sales, customers services, and so on. Surely, it offers complete control over the activities of your organization.
4. Acumatica:
source – acumatica

If you have an organization that deals in digital activities, then Acumatica is the tool that you may come across as the best option in such a case. This tool is completely a great option for mobile and network options.
It offers you the flexibility to integrate different applications and tools into the platform as per your requirements. Acumatica is mostly known for its flexibility and also efficiency. The tool not just offers smoother operations but also amazing results.
5. Tally:
When different business houses come up with so many unique ideas today, having a single solution can get difficult. In such a situation, you require something that can fulfil the requirements of all types of business options.
Tally is one such tool getting quite famous in this world of innovations and unique ideas. Tally helps you make your operations smooth without eating much of your time.
6. Sage Intacct:
Sage Intacct offers one of the most important functions: offering insights in real-time. When you get financial insights in real-time, you can check any accidental issues and thus can protect your organisation from any sudden loss.

The tool is also featured with automatic functions that help you reduce your firm's labour cost. The tool is now used for several areas of any form, such as financial consolidation, accounting, vendor management, and so on.
This cloud-based tool comes with the option of a free trial so that you can try the functions ad features of the tool first before actually investing in it.
7. Brightpearl:
source – Brightpearl

Retail firms have a special trust in the tool Brightpearl. The tool offers several features and functions, such as inventory management, sales management, fulfilment, warehouse management, and planning and reporting.
In addition, this omnichannel tool is also featured with automated functions to get insights in real-time and make better decisions for the management.
8. Odoo ERP:
source – odoo erp

Even though being an open-source platform, Odoo ERP is available with the customisation option. Once you have got this tool, you do not have to get separate options for different areas in your firm, such as sales, manufacturing, accounting, and others.
Odoo is extremely convenient for organisations of all budget sizes. The platform offers the users several facilities, such as integrating different applications and managing all the activities in a single place. The tool has a user-friendly interface and several innovative features to offer the best results.
It is also well-supported with several modules to offer you the right support for your business operations management.
9. SAP S/4HANA:
source – SAP S/4HAN

SAP S/4HANA is considered one of the most intelligent ERP tool options for some definite reasons. It does not just offer you solutions for your current requirements but also can grab various future opportunities for the organisation.
Apart from offering real-time insights for better decision-making, the tool also offers in-memory computing. It deals extremely with innovative ideas to avail efficient and beneficial results. This intelligent tool also ensures that the users do not face trouble while using the features.
Hence, it comes in different variations, such as cloud-based, on-premise, and even hybrid options for those who wish to use both options. Not sure whether you should get this tool or not? Do not worry as you can get a free trial, after which only you can decide whether you wish to get this tool or not.
10. SAP Business ByDesign: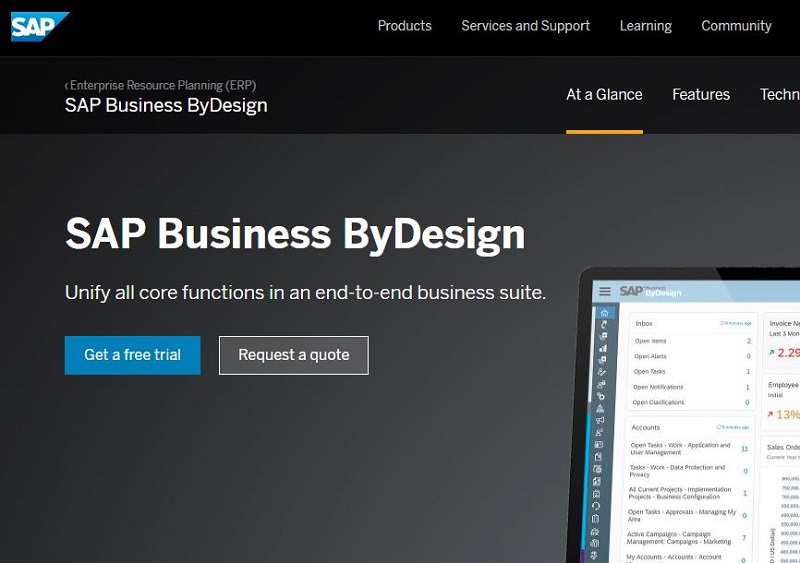 source – sap.com

This cloud-based tool is an amazing option for small business houses and those that are medium in size or even for subsidiary business houses. The tool offers efficient functioning for several areas in the firm, such as finances, human resources, etc.
Apart from offering functions for several areas, the tool also offers mobility, insights, and support functions. With the support of 12 languages, the tool is available in as many as 144 countries.
The tool is available on a subscription basis depending on the package you are taking and the number of devices you are getting the service. Moreover, the brand offers regular updates always to have the smooth functioning of the tool.
Summing up:
This list of the best options in ERP solutions does not end up here. There are many more options than you can come across. So you have to decide which one is best suitable for the requirements in your organization.
If you're looking for a concrete ERP implementation for your business, contact Dynamics Square consultants to schedule a free demo.