Powerful Reasons To Upgrade Accounting Software
10 Critical Reasons to Upgrade Accounting Software
Do you think that your organisation is continuously growing but you are losing sales? Do you still process a lot of manual data, or does your reporting process usually take a month or more and affect your prompt decision-making? If your answer is yes, it's time to upgrade accounting software with Microsoft Dynamics 365 Business Central.
When it comes to accounting application upgrades, several reasons come ahead. Hence, it becomes obligatory to know why and when to upgrade.
So, let's drive a comparison for Dynamics 365 Business Central Vs Accounting Software.
If businesses have data in their legacy system, they must switch to a modern-embedded Enterprise Resource Planning (ERP) that is easy to use and ensures seamless user adaptation.
When you upgrade to Dynamics 365 Business Central, it comes with seamless navigation and simplified features as anyone can effortlessly start using Business Central from the very first day.
Now, let's understand…
Why Choose Dynamics 365 Business Central over traditional accounting software?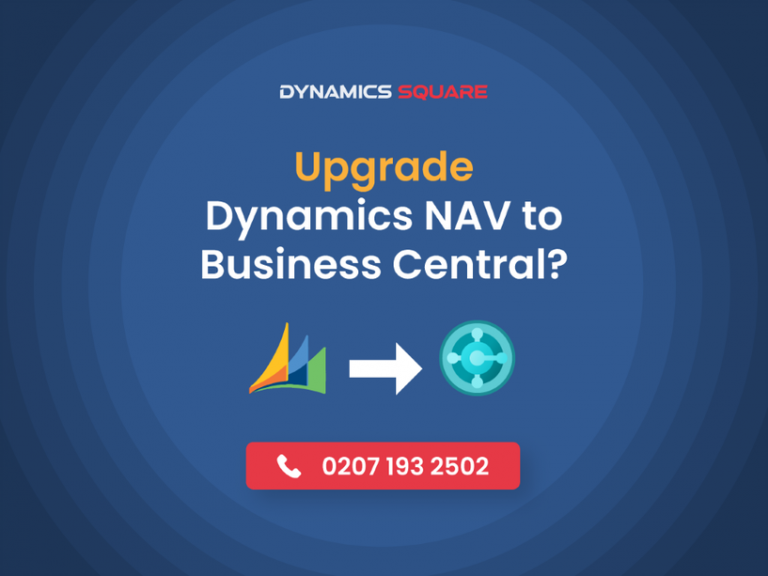 1. Automate & Simplify Your Processes

With cloud deployment, Business Central allows you to automate and simplify your entire processes whereby everyone on the network can seamlessly access and process the data in no time or without being depending on manual data strategy. However, many businesses still rely on legacy, on-premises solutions or just accounting software, but for the long run, enterprises need to upgrade to Dynamics 365 Business Central to driving sustainability and growth.
2. Support Your Increasing Sales
To support your continuously increasing sales, your outgrown accounting software may not help. In case, you have sales orders but are unable to manage them, you will start losing your esteemed customer base. Microsoft Dynamics 365 Business Central can help you to manage your end-to-end sales, serve your customer base, and support your ongoing as well as futuristic sales processes.
3. To Drive Omnichannel Experience
Considering today's modern clients or customers, you must serve them by leveraging multiple communication channels. Upgrading your outgrown accounting software can help you to improve your level of communication across your organisation as well as with your customers. Dynamics 365 Business Central enables everyone at your workplace to have instant access to relevant data.
4. Improve Your Project Management
If there is a need to manage multiple projects in your organisation, your accounting software will not be able to play a sufficient role. Upgrading your accounting software and leveraging Business Central benefits, you can create, manage, and track your projects in real-time. Analyse the job costing, develop & modify budgets, predict profit per project, and manage resources.
You can even track customer invoicing against actual project costing and the quoted one. With advanced reporting insights, enterprises can have real-time eyes on each project status, profit margins, profitability, and resource utilisation.
5. Scale Your Operations
Once your business starts growing, you are required to manage more workforce, productivity level, and more collaboration throughout your enterprise. Here, your decentralised system won't help to scale your operations.
Further, if you want to expand your product line and increase your market penetration, upgrading to Dynamics 365 Business Central is the mere solution to drive scalability by eliminating your manual data processing, improving your reporting capabilities, and streamlining your data across your departments with the seamless connection among the people in your organization.
Read Also: Why Choose Dynamics 365 Business Central?
6. Ease Your Finance Management
After a certain time, your accounting software imposes processing records. There could be defined limits while inserting records for employees, clients, or other posted transactions. Once your system crosses that limit, this is the time when you need to upgrade accounting software for your business to effectively roll out strategic planning, organizing, directing, budgeting control, and more.
7. Streamline Delivery Model
If your system is not equipped to track your customer interactions, forecast demand, access your supply chain navigation, track inventory levels, and manage your customer queries in a personalized way, you are using an outdated system. All you need to upgrade accounting software to MS Dynamics 365 Business Central to meet your customers' expectations, support your demand analysis, and streamline your delivery model.
To get in-depth knowledge about Dynamics 365 Business Central, watch our webinar:
8. To Drive Mobile Efficiency

If your existing accounting software is not embedded to access and share data through a mobile app, you are losing in terms of flexibility and portability. Microsoft Dynamics 365 Business Central enables users to seamlessly perform their tasks from anywhere and at any time. With the Business Central mobile app, everyone in your organization can perform efficiently with seamless data access and insights to make decisions without waiting for time-consuming manual reports.
9. To Make Informed Decisions
Making informed decisions at the right time makes a difference. When you upgrade your basic business solution to an enterprise-level of solution like Dynamics 365 Business Central, you allow everyone in your organization to make prompt decisions based on real-time insights, strategic reports, and other relevant data with instant access and sharing capability. All such things encourage and accelerate growth and productivity.
10. To Plan & Predict
When you are ready with all the relevant data, you can plan both short-term and long-term goals. With Business Central reporting insights, forecasting, and budgeting control features; Businesses can plan and predict for the future as well as can prevent investing in the project which is no more profitable deal now. When you have access to financial reporting, real-time inventory level, and 360-degree access to the supply chain pipeline, you can plan & predict future growth and sustainability.
Wrapping Up!
Depending on your specific set of processes and to support the continuously changing requirements, your outgrown accounting software will not help to support growth strategy and adapt to futuristic changes in your organization. Upgrading your accounting software with an enterprise-level of business solution would help indeed. To know more or to upgrade your system, contact Dynamics Square today.
To book a free consultation, dial 0207 193 2502, our Microsoft consultants are there to help!