D365 Business Central For Manufacturing: A Perfect ERP For You
Dynamics 365 Business Central for Manufacturing is one of the best ERP solutions available for manufacturers on the market. But what made it perfect for small and medium manufacturers? The answer lies below.
There is a paradigm shift that we can witness with the change in the ecosystem of manufacturing industries; Earlier, manufacturing business owners used manual procedures to process simple as well as complex activities.
Whether it was updating the amount of raw material consumed in a process or checking the total number of products that met the fixed quality parameters. They used manual methods, like pen and paper to process data while relying on limited and untrained staff.
And, after investing a lot of resources to maintain processes, they still got output with hidden errors, resulting in financial losses as well as the loss of important resources
But times have changed. The existence of manufacturing ERPs has revolutionized the way manufacturing operations are managed. Now, business owners can streamline inventory, warehouse, production, and quality processes to accelerate a manufacturing business's growth.
Based on market demand and ongoing trends, the manufacturer considers Microsoft Dynamics 365 for Manufacturing to be one of the top ERPs for the manufacturing industry. It can help you achieve a high level of business management while eliminating redundancies from the existing system to promote development.
Also, you can use it to build a sustainable infrastructure for your business while availing yourself of endless opportunities to collaborate with different employees and departments altogether. Irrespective of the complexity of a business, you can avail yourself of a 360-degree view of entire manufacturing processes without hampering the business flow.
Plus, if you are going with Business Central's cloud-based deployment, you can avail global connectivity with 100% visibility of full processes, resulting in real-time decision-making.
The benefits of Business Central for Manufacturing don't end here. You need to delve into the depths of this blog to know how this ERP can accelerate your business growth and optimize your resources for a better ROI.
What is Business Central for Manufacturing?
Business Central for Manufacturing is the optimal solution for manufacturers looking for extensive manufacturing, inventory, warehouse, and supply chain management capabilities.
It gives you comprehensive visibility to control simple and complex business operations using actionable, real-time insights.
Microsoft Dynamics 365 Business Central unifies different projects, manages core warehouse operations, and promotes collaboration using a centralized application. The manufacturing module in Business Central connects your entire business with people to offer a powerful solution capable of fulfilling all manufacturing demands and providing a better user experience.
Features of Dynamics 365 for Manufacturing: Scale your Business at New Heights
The Manufacturing module of Dynamics 365 offers different key features to enable users to fully utilise the existing resources, simplifying processes in different departments of the business.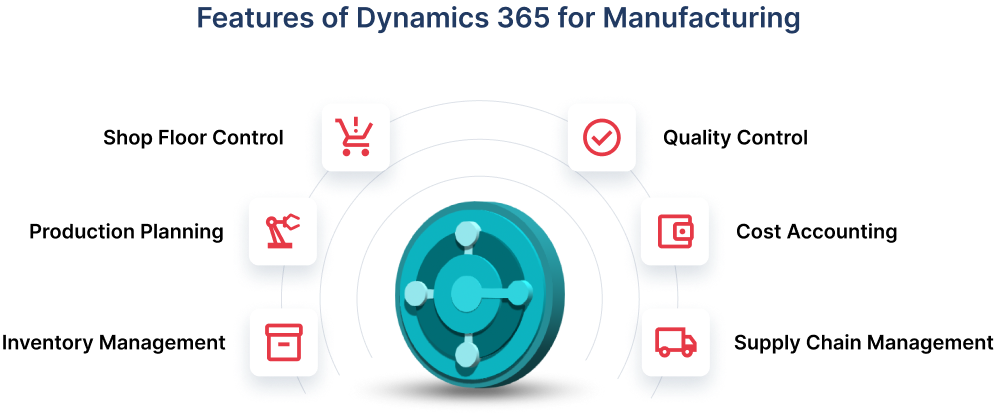 1. Inventory Management
Manage inventories for your entire stock while creating an item card for each type. Maintain the ledger items to increase or decrease the inventory quantity in real-time.
Also, you can level up the stocks directly using sales and purchase documents, irrespective of the location of the warehouses.
2. Production Planning
Plan the entire production based on requirements, the quantity of raw material, the availability of existing resources, and the quantity of items to be produced.
Employees can post the production output data using a unified database to share the production report and also update the current inventory-based planned production orders in Business Central.
3. Shop Floor Control
Business Central for Manufacturing allows users to manage the general operations of the shop floor. If a business becomes successful in controlling shop floor activities, it will enhance efficiency while lowering laborious tasks, including data feeding and fetching.
Also, you can enhance the capabilities by integrating Shop Floor Insights add-ons that allow users to use barcode scanners to speed up the process.
4. Quality Control
Microsoft for cloud Manufacturing lets the business control, track, and maintain the quality of products based on the submitted parameters or product quality information.
Based on the parameters, it can pass or fail the products, eliminating manual methods of quality control.  Quality Control Workflow Guide
5. Cost Accounting
Cost accounting is an essential feature of D365 Business Central that lets users calculate the total cost of production using different parameters, including variable and fixed costs.
In Business Central, it is done by leveraging the power of automation without any manual interaction. It can automate the cost adjustment, submit cost data, and access essential data from purchase reports.
6. Supply Chain Management
The Supply Chain Management feature is one of the powerful features of Business Central that lets users manage operations of different departments. These departments include sales, inventory, and purchasing while offering a better customer experience.
See Also – Dynamics 365 Implementation: Top Tips to Maximize Efficiency and Productivity
How can these features help you Grow a Business and Improve Operations?
Dynamics 365 Business Central for Manufacturing offers powerful features to help manufacturers enhance their business operations and reduce overall costs. Like the production planning feature, it can help you optimise production schedules, lower lead times, minimise inventory levels, and reduce production downtime. time.
Additionally, the inventory management feature tracks and optimises all inventory levels in real time to eliminate the chances of stockouts.
This helps the manufacturers ensure sufficient filling of the right stock before it runs out of inventory. Also, optimising inventory levels ends up reducing inventory holding costs and improving cash flow.
The quality control feature also plays an essential role when it comes to supporting growing organisations.
It aids the manufacturers in reducing manufacturing costs by enhancing product quality, lowering the number of defects, and lowering warranty claims Implementing Business Central for Manufacturing lets the organisation comply with changing government regulations.
Overall, by optimising production schedules, lowering inventory levels, enhancing product quality, and precisely measuring production costs, Dynamics 365 Business Central for Manufacturing's strong capabilities can assist manufacturers in improving their operations, boosting output, maximising profitability, and cutting unnecessary expenses.
Business Central for Manufacturing: Real Life Success Stories
Check out the real-life stories of organisations that have implemented Business Central for Manufacturing and gotten exceptional results.
Please create needful images of the below. Like, you can add logo.
DeVeau's School of Gymnastics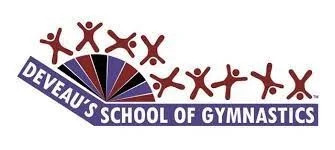 It is a US-based gymnastics school that was using a legacy ERP solution to manage different processes in finances and operations. Also, they were facing difficulties while processing different processes manually.

After the implementation of Dynamics 365 Business Central for Manufacturing, the company was able to streamline the core business operations of different departments, including finance, inventory, and production. This resulted in significant cost savings, increased productivity, and improved customer satisfaction.
JST Manufacturing
It is a UK-based manufacturer of plastic components that deals with inefficient production processes and error-prone inventory tracking.

After the implementation, the organisation was able to manage their production scheduling, improve inventory accuracy, and automate many of their manual and recurring processes.
As a result, they were able to cut their inventory levels by 20%, shorten their lead times by 30%, and significantly boost their production and efficiency.
Tura Scandinavia
It is a Denmark-based manufacturer of furniture and accessories that was stuck following manual business methods and had low visibility in most of the manufacturing processes. They were looking for a solution that could offer real-time insights with global connectivity across different processes.
The organisation was able to gain a comprehensive understanding of their production operations and increase inventory accuracy by deploying Business Central. Significant cost savings, enhanced effectiveness, and higher customer happiness were the outcomes of this.
Integration with Other Systems
Business Central for Manufacturing is a powerful solution capable of integrating with native as well as third-party applications. Such integration helps businesses enhance the desired capability of a particular function to align Business Central as per business requirements.
Based on the specific business requirement, you can easily integrate Business Central for Manufacturers with other business applications, including CRM, accounting, and a supply chain management solution.
Some of the benefits of integrating other business solutions are:
Simplified Operations: This allows the business to follow a smooth transfer of information and data throughout the organisation while eliminating the need for manual data entry. Overall, it saves processing time, lowers expenses, and boosts operational effectiveness.
Increased Visibility: The integration allows the manufacturers to get instant access to the required data, enhancing their team collaboration. It allow manufacturers to understand trends, anticipate client needs, and make data-based actionable decision on time.
Improved Customer Experience: It helps manufacturers build a comprehensive view of customer interactions using captured insights. This insight includes sales orders, queries, and support issues. Also, it helps the business gain customer happiness and loyalty by understanding the exact consumer demands.
Reduced Costs: Availing automation can minimise human efforts to do manual tasks like data entry. It comes with automated accounting and financial procedures capable of lowering the possibility of errors and mistakes with an increase in financial data accuracy.
Improved Collaboration: The unified data platform allows employees to collaborate seamlessly across different departments and functions within an organisation. This collaboration leads to more efficiency, effective communication, and positive decision-making.
The manufacturing industry is becoming more complex day by day. We can see the surge of changing customer demands, fluctuating market competition, and unexpected trends. These changes are making the entire industry unstable and inefficient in terms of efficiency, productivity, and scalability.
To cope with such complex situations, a business must adapt to the latest technological advancements, like Business Central for Manufacturing. This solution can help you build a sustainable business, understand customer needs, and align your business with fluctuating market trends, irrespective of global situations.
Also Read: Business Central Implementation Methodology
It will not only help you build a sustainable business but also enable your business to achieve optimum performance in tough times.
So, what's stopping you from streamlining your manufacturing activities and dominating the market?
If you are the type who loves to implement modern technologies to simplify existing business operations while enhancing revenue, Dynamics Square UK as a Business Central Implementation Partner would be the right choice.
Why I am saying this is that we have been in the market for a long time and pretty much know the exact requirements of a manufacturing business. We know those crucial factors that can accelerate the business towards growth and help it achieve its planned goals on time.
Are you ready to revolutionise your business with Business Central? Let's talk.