What is RoleTailored Client?
The RoleTailored client in Dynamics NAV is an essential element that empowers users to access different pieces of information on a single unified dashboard. Earlier, users used to access the Classic Client of Dynamics NAV, which also offers the information, but users needed to put in efforts to find the right information.
You need to navigate through different pages to find the right information using the Classic Client, whereas the Navision RoleTailored Client lets you access the desired data on a single screen without any hassle.
In this blog, we are going to understand the core concepts of these two clients while comparing them for more understandability.
Classic Client
We used to access the Classic Client in old versions of Dynamics NAV. It comes with an interface where users have to manually navigate through different pages and links to find the accurate context or information they are looking for. Also, if you make an update to a particular piece of information, the changes will be made available to all users as a standard. This is good as well as wrong practice.
There are certain cases where a user wants to personalise the dashboard to make it more productive. But, due to the standardisation, all users have to face the update, whether they are comfortable with it or not.
Based on the tier two concept of the client and the database server, Classic Client offers fewer features, accessibility, and visibility to the users. You will even need to customise the client interface to send or receive notifications, resulting in increased costs for upgrades and support.
With time, this becomes complicated and time-consuming, resulting in less user efficiency and lowered user effectiveness. Microsoft understood this and released the RoleTailored Client with an NAV update.
Image credits: Dynamicsnavfinancial
RoleTailored Client
It is totally updated client access, where a user can find all critical information easily on a single dashboard without looking for it on different pages. You can access the data, reports, and multiple documents on a single screen. Also, this will notify you of important notifications, critical actions, and emails waiting for your reply. You can easily customise the dashboard without making changes to another user's dashboard.
Based on the tier-three concept that consists of the client, database server, and application server, it offers modern features to collect, collaborate, and share information. The RoleTailored Client offers a personalised screen with a customizable user interface that empowers the user to make any desired change. In short, it saves time and effort and increases overall user efficiency.
The structure of the Navision RoleTailored Client is user-centric, which enables you to find the data with a click and access it in the role center. It restricts and shows the information that is essential for the user based on their profile to empower them to work efficiently.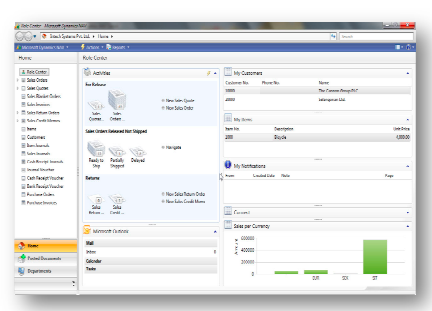 Classic vs Role Tailored Client
Till now, you would have had sound knowledge of Classic Client and Role Tailored Client. Now, it's time to compare their capabilities and features to understand them better.
| | | |
| --- | --- | --- |
| Parameter | Classic Client | Role Tailored Client |
| Customisation | Difficult | Easy |
| Data Access | Difficult | Easy |
| Cost | More IT cost | Lowered It Cost |
| Integration | Simple | Advanced |
| User Inteface | Complicated | Centralised |
Role Tailored Client lets you access different data through Role Center Page whereas you need to manually search for a particular information in case of Classic Client.
Data in Role Tailored Client can be accessed in just a click where you need to go through for more than 10 click to find a standard information.
Accessing the Role Tailored Client lets you reduce the overall IT cost with improvised tools, capabilities, and functionalities for enhance productivity.
You can access the RTC from a remote location whereas you need to set up terminal services to access the data through Classic Client.
The Role Tailored Client follows easy-to-deploy methodology when it comes to integrating different add-ons and integrations. With Classic Client, you need to use coding to integrate an application.
On-board Dynamics Square for a Clearer Prospective
In the above para, I have tried to explain the Classic Client and Role Tailored Client in the most digestible way. Maybe, you are still facing issues understanding these two. In such a scenario, the team of Dynamics Square UK is available to help you out.
Connect with our team to understand the basics of Dynamics NAV Role Tailored Client and how it can give you an overhand when it comes to smooth business management using a single screen.
In case of need, write us a mail to info@dynamicssquare.co.uk or call us directly at +44-207-193-2502 to take your business to next level.