Top 11 Platforms to Integrate with Microsoft Dynamics 365
Installing different Microsoft Dynamics 365 integrations comes as the second step after successful implementation of any Dynamics 365 suite of applications.
Implementing different integrations makes a system more smooth and powerful to deal with some specific business operations. Before learning about the popular and effective list of integrations for Dynamics 365, let's understand the value of essential integrations in growing businesses.
There is no end when it comes to improving business procedures and enhancing the quality of processes.
If you are a business owner or a decision-maker, you must be working to simplify the business while increasing overall efficiency. Also, maximising team productivity and automating recurring as well as manual processes must be on your priority list to get more efficient output with limited resources.
Here comes the role of different native as well as third-party integrations that enhance the overall productivity of a Dynamics 365 system. Such integrations make a system more capable of performing complex things with ease.
There are various popular integrations available on the market to enhance the performance of businesses, irrespective of industry. Before getting into these integrations, let's understand Microsoft Dynamics 365.
Microsoft Dynamics 365: A Suite of Intelligent Applications
Dynamics 365 is a line-up of intelligent applications that contain a set of different ERP (enterprise resource planning) and CRM (customer relationship management) solutions.
Microsoft builds these different applications to simplify different business operations. Even businesses have the choice to implement a single solution or more than one to streamline operations based on business requirements. Dynamics 365 contains different applications; some of the top solutions are given below:
Microsoft Dynamics 365 ERP Applications:
Dynamics 365 Supply Chain Management
Dynamics 365 Project Operations
Microsoft Dynamics 365 CRM Applications:
Dynamics 365 is a set of cloud-based business applications that offer global connectivity along with real-time data insights to help you make actionable decisions.
One of the best things about Dynamics 365 is its seamless integration with other solutions in the Microsoft Dynamics 365 ecosystem. Check out the available apps in this ecosystem.

Dynamics 365 Integrations: Application you Need to Maximise Performance
In business, there are some specific processes that need to be performed deliberately. Because such processes are complex to handle and may need extra performance from the ERP or CRM solution. This is where integration comes into play. They supercharge the solution to withstand the business complexity.
Below, check out the most popular and practical applications available on the market for all businesses.
1. Integration with Microsoft Teams
Dynamics 365 integration with Microsoft Teams is an essential tool for all growing organisations. It is a widely used team collaboration tool and a perfect messaging application for small, medium, and large businesses. In short, it is an all-in-one application for all sorts of business communication and data sharing.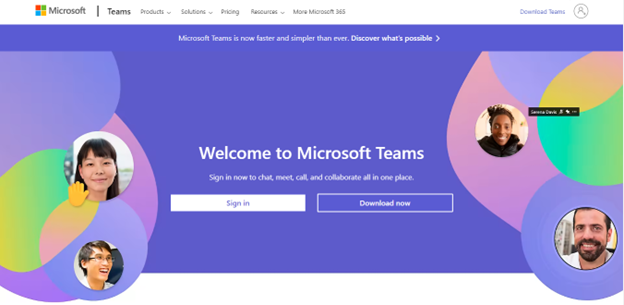 Some of the top Microsoft Team benefits are:

Uninterrupted communication
Enhanced productivity of users
Cloud-based unified platform
Can be accessed using devices and the web.
Strong and secure communication platform 
2. Microsoft Outlook
Microsoft Outlook integration with Dynamics 365 is a popular choice of business owners generally used to send or receive emails. Also, business users use this application to share data, manage meeting schedules, write notes, and perform various tasks as well.
Some of the top Microsoft Outlook benefits are:

Organises all mail and professional communication
Manage meeting schedules through the calendar
Share data through links
Enhance the productivity of users
Let's stay connected with the world
3. Microsoft Office
We have been using Microsoft Office for years, and it doesn't need an introduction. However, for the sake of newbies who want to use Microsoft Office integration with D365 but don't know its actual capabilities, it is a set of different applications that directly enhance the productivity of the user. It contains different applications that include Word, Excel, Access, Publisher, PowerPoint, and more.
Some of the top Microsoft Office benefits are:

Anytime and global access
Simple to Use
Fully Secured database
Ease of accessibility
Automatic Version Upgrade
4. Power Platform
Microsoft Power Platform is a set of five applications that empower users to automate business operations, build low-code applications, analyse and visualise data, and build professional virtual agents. The applications of the Power Platform include Power BI, Power Apps, Power Automate, Power Virtual Agents, and Power Pages.
Some of the top Microsoft Power Platform benefits are:
Simple and interactive user experience
Enhanced customer service
Centralised data platform
Offers process automation
Offers access across all devices
5. Microsoft Power BI
The integration of Power BI with Dynamics 365 is a great choice if you want to understand data. However, Power BI is a data analysis and visualisation tool capable of filtering, refining, and processing large sums of data using attractive graphical representations. Embedded with AI, BI, and ML, Power BI offers data insights to help you make data-driven decisions.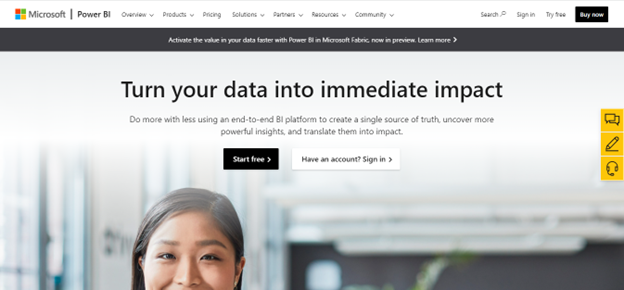 Some of the top Microsoft Power BI benefits are:

Interactive data interface
Exceptional graphical representation of data
Real-time data insights
Offers smooth collaboration
Customisable reports and dashboard
6. Microsoft SharePoint
SharePoint is a web-based document management application and a unified platform to create websites known as team sites. Using SharePoint integration with Microsoft Dynamics 365, you can store, collaborate on, and share different types of documents that include images, videos, news, links, and web pages.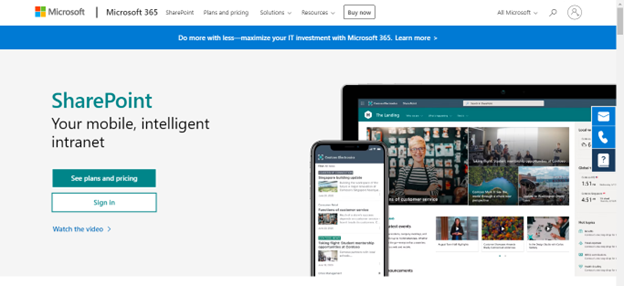 Some of the top benefits of Microsoft SharePoint are:

Seamless document sharing using a link
Managing different projects altogether
Building sites for different projects
Creating effective workflows
Promotes effective communication
7. Sales Navigator by LinkedIn
In 2016, Microsoft acquired LinkedIn, so it can be considered a native application. Sales Navigator is a sales platform that allows users to find potential prospects and build sustainable relationships with them. It empowers the users to find potential customers, find an opportunity for sales, and engage with them to convert them into customers.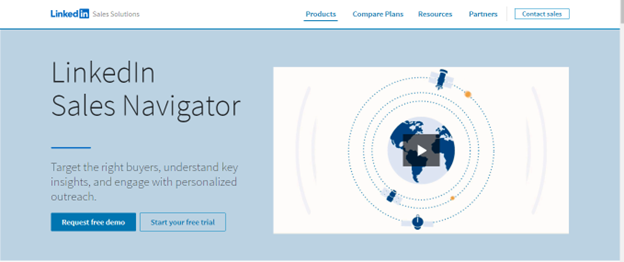 Some of the top benefits of Sales Navigator are:

Offers advanced tools to search for potential customers
Comes with different filters to refine customers
Track the activities of prospects
Integrate with other sales tools
Wide range of reaching out
8. Continia Software (ERP integration)
When it comes to Dynamics 365 integration with external systems, Continia is considered a top solution. It is a powerful solution that allows the user to automate manual tasks and optimise existing resources to maximise output. It offers different features that include daily invoice management, tracking business expenses, automating the account ledger, streamlining vendor payments, and performing bank reconciliation on time. Document Capture, Expense Management, and Payment Management are the top offerings by Continia for Business central cloud ERP solutions,.
Some of the top benefits of Continia Software are:
Document management automation
Digitalize different workflows
Offers cost-effective pricing
Easy to scale as per business requirement
Ease-to use interface
9. Microsoft Exchange
Exchange is an effective email service generally used to send or receive emails to and from client computers. It offers specific network resource management that works on SMTP, POP, and IMAP to establish communication for emails. Other than mail management, it can manage meetings, contacts, and general tasks.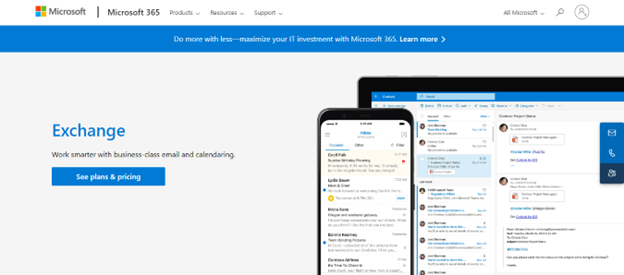 Some of the top benefits of Microsoft Exchange are:
Safe and secure data throughout the data transaction
Global access to data
Integration with SharePoint and Skype
Centalised platform
Manage scheduling
10. Insight Works (ERP integration)
Insights Works is a powerful tool when it comes to enhancing the overall efficiency of warehouses while streamlining inventory management. Once you integrate Insight works with Business Central, it starts to offer the tools to track the stocks in real-time to eliminate overstock and understock inventory. It comes with intelligent applications that include a barcode generator, warehouse insights, asset count, and more.
Some of the top Insight Works benefits are:

Offers accurate inventory data
Real-time stock update
Seamless reporting
Streamlines warehouse operations
Simple user-interface
11. Microsoft OneNote
OneNote allows users to actively create notes while working on everyday tasks. Whenever you write a note, it stores the data and gives it back to you whenever asked. Even multiple users can collaborate on a single note while collecting data from different applications.
Some of the top Microsoft Notes benefits are:
Organise notes
Share notes with others
Easy to navigate throughout the app
Supports different multimedia format
Comes with cloud Storage
Dynamics 365 Integrations with Dynamics Square
In a general scenario, integrations take place at the backend of both systems, where one is the data receiver and the other is the sender. You will need a Dynamics 365 integration & implementation partner to establish a connection between two systems, whether you are trying to connect native or third-party applications.
Your partner will analyse your system requirements and build a connection through APIs. Also, coding is another way of building a connection.
In both scenarios, your Dynamics 365 support partner is the key to building a successful connection. If you are looking for one, Dynamics Square is available to help you out with any kind of customization and integration to lead your business towards enhanced productivity and efficiency.
In case of need, write us a mail at +44-207-193-2502 or call us directly at info@dynamicssquare.co.uk for instant support.