Power BI to Azure Integration: Drive Business Intelligence Data for Enhanced Growth
For companies that run their business processes in the cloud, Power BI to Azure integration is crucial. Because Microsoft Azure offers seamless and secure data servers that can be accessed globally without any hassle.

Now, you must be thinking is Power BI to Azure integration essential for a business? The answer resides in this blog. Let's learn a little bit about Microsoft Power BI and Microsoft Azure before learning the step-by-step process.  
What is Microsoft Power BI?
Power BI is a powerful data analysis and visualisation tool capable of collecting, storing, refining, and processing large amounts of data in minutes. It captures the data from various data sources and shows it using a graphical representation using charts and bars.
Equipped with AI (Artificial intelligence) and BI (business intelligence), it offers an interactive user-interface to let you understand and customise reports and dashboards. It empowers the users to transform the raw data into actionable insights, enabling them to make data-driven decisions whenever needed.
Microsoft Power BI comes with global connectivity that lets the business get data analytics whenever there is a need to promote business growth. Also, you can integrate Power BI with other Microsoft ERP and CRM solutions to enhance overall business efficiency and productivity.
What is Microsoft Azure?
Microsoft Azure is a cloud computing platform that empowers businesses to build different kinds of applications and services. You can build solutions that run on different infrastructure, which includes SaaS (Software as a Service), IaaS (infrastructure as a Service), and PaaS (Platform as a Service). 

Microsoft Azure is also considered an online platform to host, share, and transform data to make it useful and effective. Being a cloud storage platform, you can access its powerful services by paying a monthly subscription fee without setting up any costly on-premises systems.
Microsoft allows businesses to build, test, and deploy solutions or applications with full data security.

What is the need of Power BI to Azure Integration?
The connection between Microsoft Azure to Power BI enables smooth data transfer across the entire system. Also, it lets you avail yourself of the data available in Azure to visualise it using Power BI.
This integration lowers the effort you put into data processing to get real-time data analytics.
This integration builds a bridge between Azure and Power BI to offer you data analytics whenever needed. Even so, it enables a business to track, monitor, and control the core business operations that promote business growth.
In case of need, you can modify the operations to get the planned results. 
Power BI offers various connectors to build a connection with Microsoft Azure. It eliminates the need to write code to connect these two solutions. You can connect different Azure services, like Azure SQL Database, Stream Analytics, Azure ML, Azure Storage, Azure Evet Hub, and Azure HDInsight.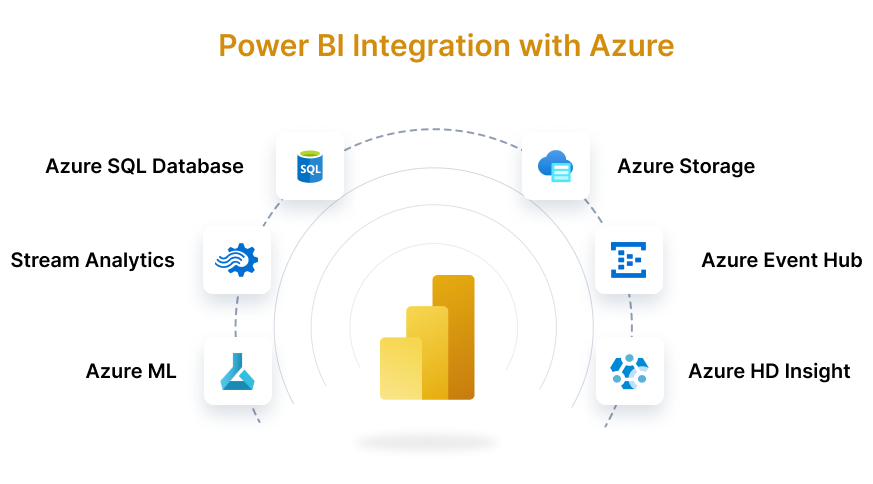 Azure to Power BI Integration: Get the step-by-step Process 
In this, we are going to learn the step-by-step process for Power BI integration. Follow the below steps precisely to eliminate the chances of errors. 
Open your Microsoft Azure Portal and click on the Create a Resource button available below Azure Services.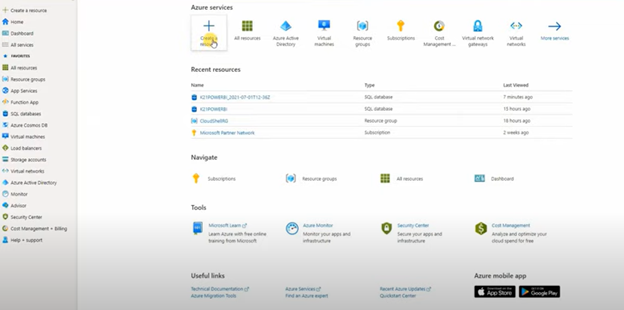 In the next page, you will get a search bar where you can search Azure SQL.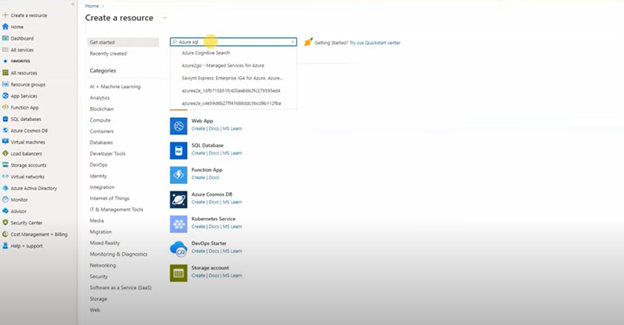 When you enter the search, the Azure Marketplace will open, where you need to click on Create button to create a single database in Azure SQL option.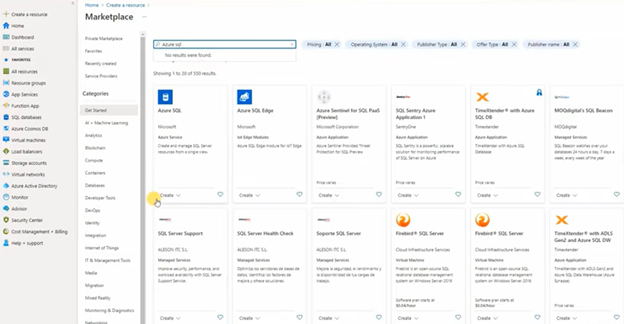 On the Create SQL Database page, you need to specify some basic database details, like the database name, server name, and other details. Once you enter the details, click Review and Create, followed by Create button. 
It will take a bit of time to create the database. Once it is done, you will get the message "Your Deployment is Complete" on the next page. Once your Azure SQL database is completed, click on Go to Resource button.
Click on Compute+Storage button available on the left of Azure dashboard, select the Serverless option, and reduce the Data max size to 15 GB for now so that it doesn't charge you for the server consumption. Once you have made the changes, click on the Apply button to save the settings.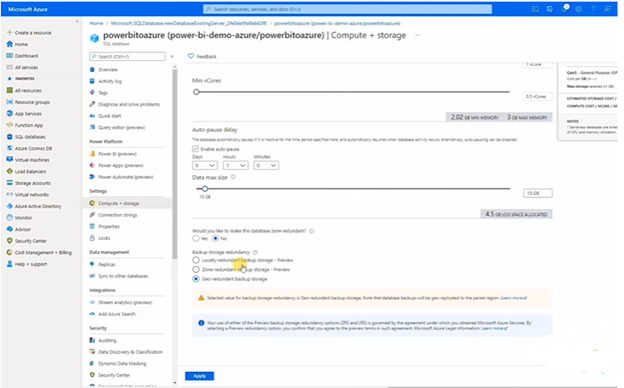 Once you click on the Apply button, you will revert to Home screen. Now, we have to set up the server firewall so that we can access this data from our Power BI Dashboard.
Click on the Set Server Firewall button available at the top of the screen.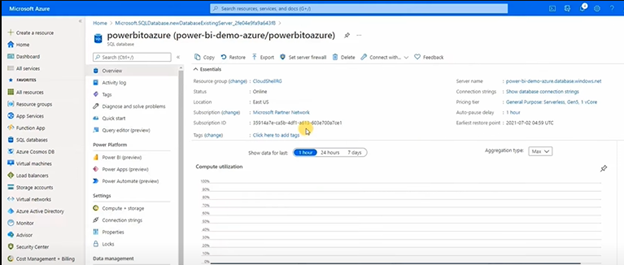 On the Firewall Settings page, you need to click on Add Client IP, and it will automatically grant permission. Click on the Save button to save this client IP.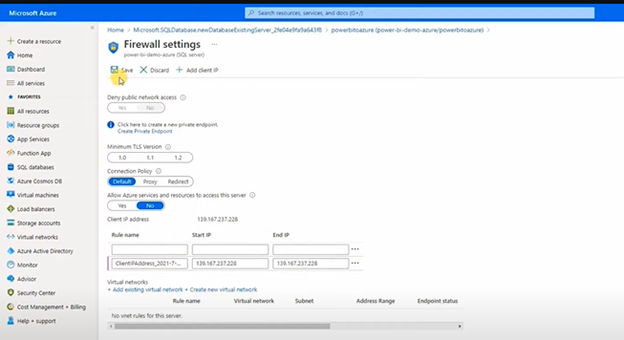 Now, go back to your Home page and click on the database we recently created. 
This is the stage where we have to add a query so that we can transfer the data from Azure to Power BI and start data visualisation. 
From the left, click on Query Editor and enter the SQL Server credentials to log into the account.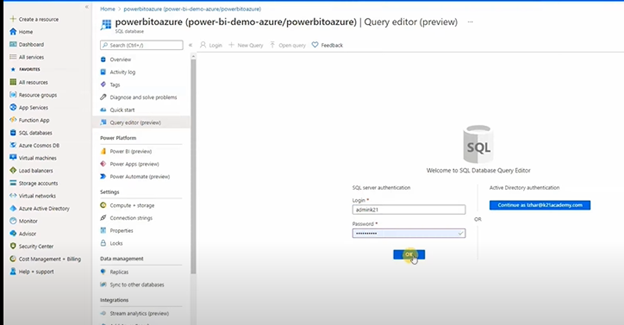 Click on OK to log in. 
In this editor, you need to feed the data you want to visualise through a query. 
After feeding the query data, run it and enter further information based on your query. 
Once you submit the data, click on the Power BI (Preview) option available on the left column to visualise the data. 
When you click the Get Started button, a pbids format file will be downloaded automatically.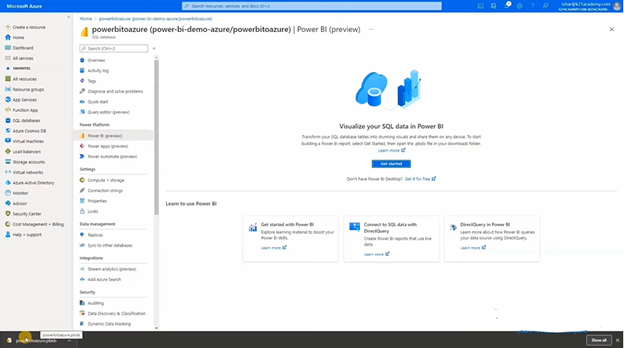 Click on this file, and it will open the Power BI Desktop to show you the data visualisation. 
Once Power BI loads up, it will ask for permission to access the SQL Server Database. Enter the credentials, and it will load the data you have submitted through the query editor. 
Use the visualisation options available on the right to get the desired graphical representation. 
The above method is one such method you can follow for Power BI to Azure integration. Compared to other methods, this is one of the simplest methods we have, to establish a smooth and sustainable connection. 
How can Dynamics Square help you with Power BI Azure Integration? 
The process to connect Power BI to Azure SQL database is simple and effective. Yet, there are chances of any unexpected error you may have to face. In such a scenario, the Power BI consultants are available to help you resolve such an unexpected issue. 

With 150+ Microsoft certified consultants, 500+ global clients, 99% support uptime, and 99% customer satisfaction, Dynamics Square has become a reliable, trust-worthy, and cost-effective Power BI implementation partner. 

To understand the Power BI licensing or pricing, you can contact us too. 

In case of need, write us a mail at info@dynamicssquare.co.uk or call us directly on +44-207-193-2502 for instant support.   
See Also -