HubSpot Business Central Integration: Sync Customer Data with ERP in Real Time
HubSpot Business Central Integration - the key to linking HubSpot CRM with Business Central ERP for a streamlined bidirectional data flow.
Manage, track, and monitor customer data directly on the Microsoft Dynamics 365 Business Central dashboard while getting the same updates on HubSpot too in real-time.
Doesn't the entire integration sound interesting?
The whole process of HubSpot Business Central integration is a bit technical, but following this blog, you will be able to do it even if you have zero knowledge of both solutions.
Before getting to the simple step-by-step process, let's understand a bit about these solutions and the need for integration.
Need of HubSpot Business Central Integration
Customer management is the key to building a successful business. This seems like a simple task, but it is the most difficult task for a business. If you are associated with a business, you must agree with me.
This is where advanced CRM solutions come in. We have HubSpot, Microsoft Dynamics 365 CRM, and other solutions that empower businesses to understand customers and offer them the service or product they are looking for.
No doubt, Business Central is a powerful ERP solution, but when it comes to managing customers, it offers the basic functionalities of CRM. To avail advanced capabilities and streamline customer management, you need to integrate HubSpot with Business Central and make things work for your unique business.
After the integration, the data will be synced between both applications, enabling you to access and modify data in real-time. You can easily create contacts, update their status, manage queries, and streamline the entire sales process directly using Business Central.
With the two-way sync, you can build a consistent flow of data across both systems, enabling teammates to collect, share, and edit the data whenever required. Also, you can update the status of orders and sync the products from Business Central to HubSpot, fetching data in real-time.
What is Microsoft Dynamics 365 Business Central?
D365 Business Central is an all-in-one business management solution capable of managing an entire business with advanced tools and capabilities. Specially built for SMBs, it offers simple yet powerful features that can manage, monitor, track, and streamline different business operations with ease.
It comes with the latest technologies, like AI, BI, and ML, it offers automation that directly enhances the efficiency and productivity of a business. Being a cloud-based ERP (enterprise resource planning) solution, it comes with a monthly subscription plan that makes it unique and cost-effective.
Business Central is flexible in nature and allows businesses to customise it based on unique business needs, making it perfect for all businesses, irrespective of industry. Being a part of the Microsoft Dynamics 365 ecosystem, you can easily integrate native as well as third-party applications to enhance the overall performance of the system.
What is HubSpot?
HubSpot is a popular CRM (Customer Relationship Management) tool among developing businesses that helps them manage and strengthen relationships with customers. It lets your sales team manage and track a customer's journey, from being a prospect to becoming a recurring customer.
HubSpot offers different methods to establish strong communication with all customers, including live chat, forms, and calls. With a centralised dashboard, you can view the status of customers in real-time, which makes you aware of their actions.
It comes with a few tools to help you with marketing, like email automation, attribution reporting, data enrichment, live chat, and chatbots. Also, these tools help you nurture prospects while offering a superior customer experience.
HubSpot Business Central Integration: Get the Step-by-Step Procedure
There are a few ways to connect these two solutions, like extensions, code, and third-party connectors. In this blog, we are going to discuss the extension method because it is easy to follow and effective.
1. As we know, Business Central is a popular ERP solution among users in the USA and UK, and you can directly install Microsoft Dynamics 365 in HubSpot CRM.
2. Open HubSpot's App Marketplace and search for Microsoft Dynamics 365 Business Central.
3. Once you find it, click on the Install App button available on the right. You will get a prompt that asks you to connect to and sync Business Central.
4. Once you click on the Next button, you will be asked to deploy the HubSpot Extension as a prerequisite.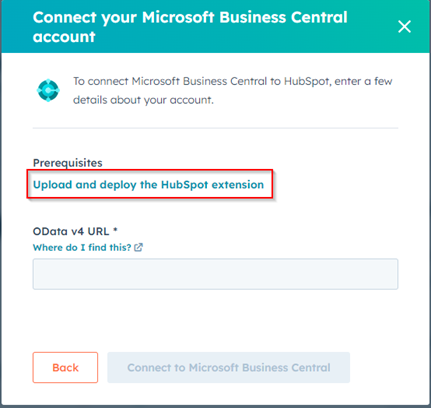 5. Now, you need to upload the official HubSpot extension in Business Central to establish a connection.
6. Open Microsoft Dynamics BC and click on the Search icon available on the top ribbon. Search for Extension Management and click on it.
7. Click on the Manage button, and it will open the extension menu. Click on the Upload Extension button. 
A new dialog box will open where you need to upload this extension. Choose the options you need and accept the privacy policy. Click on Deploy button once you are done with necessary settings. 
The HubSpot extension will be installed in a few minutes. Also, you can check the status using the Extension Installation Status button available under Manage.
Once the installation of the extension is successful, it will be listed on the Installed Extensions page.
Now, again, come to the Business Central Dashboard and search for Web Services.
In the Web Services window, click on the +New button to create a new entry.
Select Page as Object Type, type 21 as Object, select Customer Card as Object Name, and select the Published check.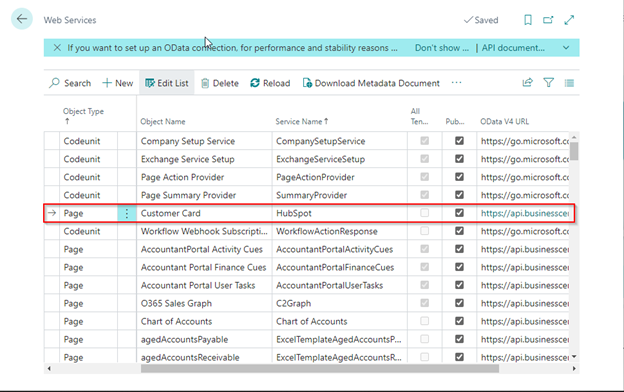 On the right side, copy the URL available in the OData V4 URL and paste it on HubSpot Business Central integration page, as discussed in Step 4.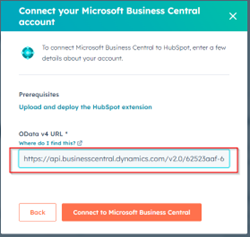 If you have followed the above steps carefully, the HubSpot Business Central integration will be successful.
Major Benefits of HubSpot Integration with Business Central
Once you integrate both of these applications, you will be able to avail yourself of various benefits to enhance the performance of your business. Some of the benefits are:
This integration unifies the data collected in HubSpot and Business Central so that you can edit, update, and make changes from one solution.
It improves data transparency and quality and creates new opportunities for growth.
Get a 360-degree view of the entire business and its processes in Business Central. This information includes prospect data, previous customer communication, lead status, marketing campaigns, and more.
Build and maintain workflow for each customer, and track the status of a ticket or query in real-time.
Two-way data transfer lets the team build accurate and data-driven reports based on captured data in real-time. Also, it lets the team calculate revenue and financial activities.
Summing Up!
HubSpot Business Central integration will enhance the overall performance of the business while streamlining customer queries. It centralises all information about HubSpot and Business Central to make the team efficient and productive in dealing with day-to-day business operations.
The above-listed process of Business Central and HubSpot integration is simple to follow. But no one is aware of unexpected errors or bugs. In such a scenario, Dynamics Square is ready to help you out, irrespective of the complex scenario.
We are a leading Dynamics 365 partner in the UK, offering our cost-effective, reliable, and trustworthy services to businesses. We offer Dynamics 365 Business Central implementation, upgrade, and support services to help a business keep going even in tough times.
In case of need, pick up the phone and call us at +44-207-193-2502 to get instant help. Also, you can send us a message on info@dynamicssquare.co.uk with a detailed explanation of your issues so that our Microsoft-certified Business Central consultant can contact you with a solution.