D365 Finance And Operations: Overview, Capabilities, Benefits, FAQ
Microsoft Dynamics 365 Finance and Operations is a finance and business management solution capable of managing the entire operations of the industry across different departments, including manufacturing, sales, finance, warehouse, supply chain, transportation, business administration, and inventory.
It can boost profits, empower customers, optimise operations, predict financial data, provide accurate data insights, promote collaboration across departments, maximise financial performance, provide real-time data, and much more.
Managing the general operations is a crucial task that powers the organization's growth and sustainability; still, people lack proper management.
We currently have advanced ERP (Enterprise Resource Planning) tools to manage finance and other major modules of the organisation. But, before the modernisation of industries, people used to work on everything manually.
Still, various micro and small industries follow traditional methods of managing general ledgers, tracking assets, operation management, tracking revenue, streamlining processes, and evaluating cash flow.
With the advancement of technology, Microsoft has introduced the Dynamics 365 Finance and Operations application to revolutionise finance, accounts, and business practices. It can automate the processes, centralise the data, streamline financial operations, support multiple currencies, optimise the existing processes, and provide real-time data insights for data-driven decisions.
It offers numerous features and capabilities to drive rapid growth and scalability using strategic innovations and actionable intelligence. Before learning more about this powerful solution, let's understand its current version.
In 2016, Microsoft rebranded it as Dynamics 365 for Finance and Operations, making it capable of managing the finances, operations, and supply chain of a business. After the 2020 update, Microsoft split the entire application into two separate applications for several reasons:
Still, most customers, business owners, and consultants know it as a whole; Finance and Operations (D365 F&O).
Microsoft has made this easier for customers who want to access the Finance, Operations, or Supply Chain modules separately as per specific business requirements. Users have the freedom to buy the required licence for the desired modules despite paying for the entire Finance and Operation module. You might still be in a dilemma about the split up of this application and might have some questions. In such a case, your Dynamics 365 Finance implementation partner will help you resolve all your issues.
It has a vast history of updates and rebranding, which is discussed below.
History of D365 F&O
D365 For Finance and Operations is one of the applications under the Dynamics 365 umbrella that was added in the 2016 update. Formerly, it was used to manage the finances and some other processes of the enterprise, but later its capabilities were upgraded to cope with small, medium, and large organisations as an ERP. It has gone through a number of updates since it was known as Axapta. The history of the D365 Finance and Operations release schedule and its various versions are discussed below.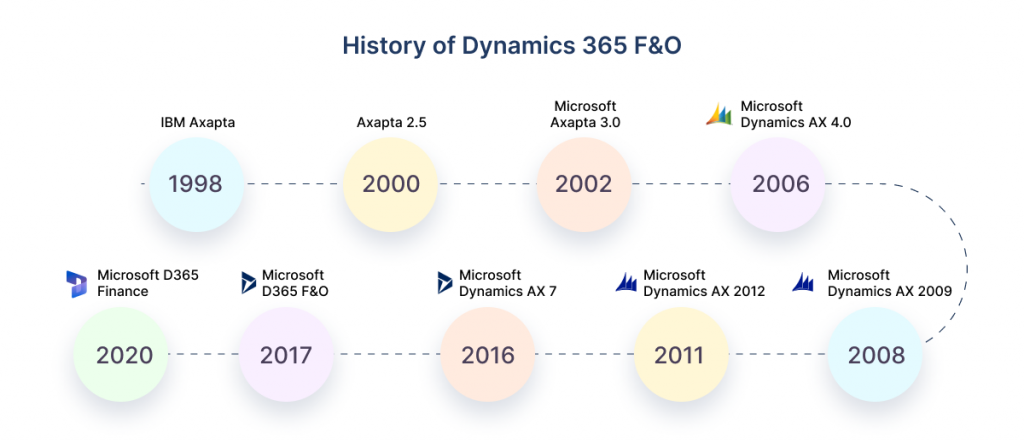 IBM Axapta (1998)

Axapta was the original name released with the collaboration of IBM and Damgaard Data. The Damgaard brothers, Preben and Erik, were the founders of the company to build digital accounting software for business owners. It was based on Concord AXL business processes and offered general accounting.
Axapta 2.5 (2000)
Damgaard and Navision Software merged and released the latest version under the name NavisionDamgaard. Later, the name was changed to Axapta 2.5. This version came with improvements in features, like an updated Project Module and a totally new Banking Module.
Microsoft Axapta 3.0 (2002)
Microsoft purchased the collaboration of two, i.e., NavisionDamgaard and added Axepta to the list of Microsoft Business Applications. With various updates and enhanced capabilities, Axapta 3.0 was offered to numerous industries. It comes with some new features, like supporting 17 countries, an updated security model, new licencing plans, and more.
Microsoft Dynamics AX 4.0 (2006)
In 2005, Microsoft rebranded its business solutions to Microsoft Dynamics, and most of the applications were rebranded. Axapta was renamed to AX, and the combination became Microsoft Dynamics AX. It came with updated features and capabilities, including a Service Management module, a responsive user interface, Microsoft's standard layout, and AD authentication.
Microsoft Dynamics AX 2009 (2008)
Announced in 2008, Microsoft released this version with added capabilities, including low operational costs, making data-driven decisions, data reporting, global location support, and a reduction in complexity in managing different operations.
Microsoft Dynamics AX 2012 (2011)
Announced in 2011, Microsoft released this version with availability in 30+ countries and support for 25 international languages. This version focuses more on medium and large-sized industries, with cloud and company-premises deployment options. 
Microsoft Dynamics 365 AX7 (2016)
It was released with a new user interface where users can operate it using a browser from anywhere and anytime. It eliminated the need to install administrator clients on a PC. Using cloud computing, Microsoft offers flexible deployment options where users can increase or decrease the number of servers by contacting their Dynamics implementation partner. Later, it was rebranded as Dynamics 365 for Operations and again renamed as Dynamics 365 for Finance and Operations.
Microsoft Dynamics 365 for Finance and Operations (2017)
Dynamics 365 is a complete suite of ERP and CRM solutions, whereas D365 Finance and Operation is one of the ERP apps. It offers cloud, on-premises, and hybrid deployment options to all small or big businesses. Accurate and real-time data insights are made available using the latest technologies, including artificial intelligence, business intelligence, and financial intelligence.
Microsoft Dynamics 365 Finance (2020)
Microsoft understands the needs of modern businesses and splits up D365 Finance and Operations into two separate products: Microsoft Dynamics 365 Finance and Microsoft Dynamics 365 Supply Chain Management.
Some of the D365 Finance Capabilities are:
Accounts receivable and payable
Budgeting
Cost Accounting
Cash Management
Expense Management
Reporting
General Ledger Management
Accounting
Project Management
Some of D365 Supply Chain capabilities are:
D365 Supply Chain capabilities
Cost Accounting
Warehouse Management
Inventory and Transportation Management
Procurement and Sourcing
Asset Management
Sales and Marketing
Production Control
Product data management
Master Planning
Need of D365 F&O in Growing Industries
Managing the financial and business operations of the entire company manually might result in lots of errors and a long list of pending tasks. If you have been doing business for over a decade, you will be well-versed in such scenarios.
But, imagine a digital solution that can automate the financial process and streamline all operations to make you focus on business growth rather than constantly supervising the overall financial and business health.
If you are one of the users who purely wants to focus on growth and scalability, D365 F&O would be your ideal solution for end-to-end business needs. It centralises and connects the data across all departments of the business, including finance, supply chain, manufacturing, inventory, warehouse, transportation, and operations.
D365 Finance and Operations provide flexible server deployment options, enabling the users to collaborate and make technology-driven decisions right away whenever needed. The features and capabilities of D365 for F&O empower the user to run a business productively and efficiently while utilising the existing resources properly.
The native and power platform integrations make the application more powerful and effective with a simplified user experience. Also, it enables the organisation to track competitors as well as the customers to know the latest trends in the market and their changing needs.
With a simple-to-use interface, Microsoft D365 For Finance and Operations provides 24X7 accessibility, seamless customisations, smooth integrations, and real-time data insights, empowering the financial team to optimise the current operations, automate recurring tasks, and enhance financial performance.
See Also – Microsoft Dynamics 365 Sales Implementation Guide
Top Industries Using D365 F&O
There are numerous industries that actively use Microsoft Dynamics 365 Finance and Operations to streamline finance, operations, and supply chain processes. Generally, industries with 50–200 employees and annual revenue of 1 million to 10 million opt for this powerful application to provide an advanced solution for all business needs.
Below are some of the industries that use D365 F&O:
Manufacturing
Irrespective of the type of manufacturing, Dynamics 365 F&O can manage the entire manufacturing stream, from building a product to finalising it for delivery. It provides full visibility to users for making data-driven decisions in real time.
E-commerce
Businesses have to manage and process a huge number of orders on a daily basis with full accuracy and data insights. Microsoft D365 F&O is capable of managing these orders, processing them on time, and sending the reports accurately to the business on time.
Construction
In construction, users need proactive control of all operations, managing all locations at once. Microsoft Dynamics 365 Finance (ERP) keeps the users connected to all locations, integrate all systems simultaneously, focuses more on growth, maximises profitability, and much more.
Retail
D365 For finance and operations, it flawlessly manages the chain of stores, from tracking daily processes to sales and delivery. Even. It centralises the data collected from different outlets to connect and efficiently run the system.
Field Service
In order to achieve this, industries have to accurately manage many parameters, including profitability, service management, task scheduling, billable hours, and resource utilisation. Also, D365 Finance and Operations provides a transparent and visible overview to the users, allowing for a more productive environment.
Architecture & Engineering
In architecture and engineering, there are a lot of complex processes and operations that have to be streamlined and completed on time. Microsoft D365 Finance and Operations can manage all such tasks using automation and business intelligence.
Distribution
MD365 Finance and Operations has a number of features and capabilities that can help distribution industries. Even users can access Dynamics 365 for Supply Chain if there is a need for a specific solution for effective distribution and supply chain management.
D365 Finance and Operations Capabilities: Businesses Thrive to Consume
The modern ways of business are changing, and so is technology. Every industry needs a flexible and powerful solution that can understand the requirements and offer the most suitable solution. Microsoft Dynamics 365 F&O is one of the solutions that understand the business requirements, customise the capabilities, and provide the most suitable solution irrespective of the business type and size. It caters to numerous capabilities of such businesses, among which are listed below:
Seamless Automation
D365 Finance and Operations provides seamless automation to eliminate the most cumbersome tasks from the system, including expense management, invoice tracking, and account management. It offers connected data to all users, enabling them to better collaborate and manage their financial health.
Performance Monitoring
The D365 Finance and Operations application is basically a cloud-based app that lets the app connect with the cloud 24X7, allowing users to take data-driven decisions anytime. It is also available on mobile and the web to continuously monitor performance.
Robust Integration
With native and third-party integrations, the application becomes even more powerful to tackle all complex financial and business operations. There are numerous integrations available, including MS Excel, Skype, Outlook, Power applications, Web portals, and MS Office.
Enhanced Productivity
Data personalisation is the key to better productivity and efficiency. Users can customise and personalise the data available while eliminating the irrelevant information available on dashboards or reports for enhanced productivity and efficiency.
Leveraging Technologies
The D365 Finance and Operations comprises advanced technologies leveraging the power of the cloud, artificial intelligence, business intelligence, machine learning, and much more. It is even capable of predicting future outcomes to create strategic and sustainable insights.
Customisable Reports
D365 for Finance and Operations enables users to create, track, explore, and customise reports based on their needs.It is capable of showing detailed data in a report based on different parameters. It also possesses advanced tools to generate weekly, monthly, and annual reports easily.
Top Benefits of D365 F&O that Lead towards Easy Growth
Microsoft D365 for Finance and Operations allows you to manage and supervise the business 24X7, predict the results, and maximise the financial performance to enhance the growth of the company and lead it towards easy scalability through simplifying business processes. It has numerous benefits, some of which are listed below:
Effortless Financial and Accounting Decisions
The D365 F&O makes decision-making a lot easier by using the power of AI and machine learning. It helps users manage and close accounts to maintain a sustainable financial situation. Using advanced technologies, it can create accurate, detailed reports, shows real-time data insights, smoothen financial reporting, supports different currencies, improve cash flow, and much more.
Unify Financial Data
This is a powerful financial application that unifies the entire data set and shows it to the approved users whenever needed. It enhances productivity by using customised workspaces, seamless integrations, real-time data insights, and scheduling tasks based on priority. The unified data makes the application adaptable to all business requirements and modern business methods.
Attractive User Interface
The D365 for Finance and Operations provides a best-in-class user interface to all users, irrespective of the device, whether web or mobile. It offers an attractive and user-friendly experience to help users understand and utilise the data with ease. All users can manage and supervise any process using any device, making it easily accessible.
Maximise Profitability
The enhanced capability of this advanced solution helps in reducing the complexity of tasks, whether financial or business operations. It maximises profitability by adopting the latest technologies. The support of various international currencies allows the organisation to expand its business globally, meeting all government regulations for international scalability.
Minimise Operational Cost
Microsoft D365 Finance and Operations track and records all organisational expenses so that users can proactively reduce them after efficiently evaluating operations and processes. Minimising financial costs requires a lot of functions, including forecasting, strict budget planning, cost accounting, precise reporting, and data analytics.
D365 Finance and Operations Licensing Guide: Most Affordable and Cost-effective
We have already discussed the separation of D365 Finance and Operations into two separate applications, i.e., D365 Finance and D365 Supply Chain Management. Understanding the D365 Finance and Operations licensing guide used to be typical earlier, but after the update, Microsoft simplified the process.
Earlier, users had to purchase a licence for the whole D365 Finance and Operations application, irrespective of the specific need. Users with a need for the finance module only and users with a need for the whole application are considered the same, and both parties have to pay the same amounts of fees. But Microsoft understood the issue and separated it into two separate applications, making both the modules and pricing flexible for all kinds of users.
As per the 2020 update, Microsoft Dynamics 365 Finance pricing and Microsoft Dynamics 365 Supply Chain Management pricing are listed below:
| | | |
| --- | --- | --- |
| Application  | As per Dynamics 365 App  | Subsequent Qualifying Price  |
| Finance  | £135.70 Per user/month  | £22.60 per user/month  |
| Supply Chain Management  | £135.70 Per user/month  | £22.60 per user/month  |
How to avail D365 Finance and Operations Free Trial?
You have to apply separately on the official website of Microsoft to avail the free trial of Dynamics 365 Finance and Dynamics 365 Supply Chain Management as the combined version is not available. During this period, you can test and use the features as per your business requirements. The procedure to avail of the trial is given below:
To avail the trial offer, go to Dynamics 365 free trial page and click on the Request a demo button available under Dynamics 365 Finance module; as shown in the below picture.  
Once you click, a new page will be displayed where you have two options to select.
Contact a Microsoft Partner
Sign up for a free trial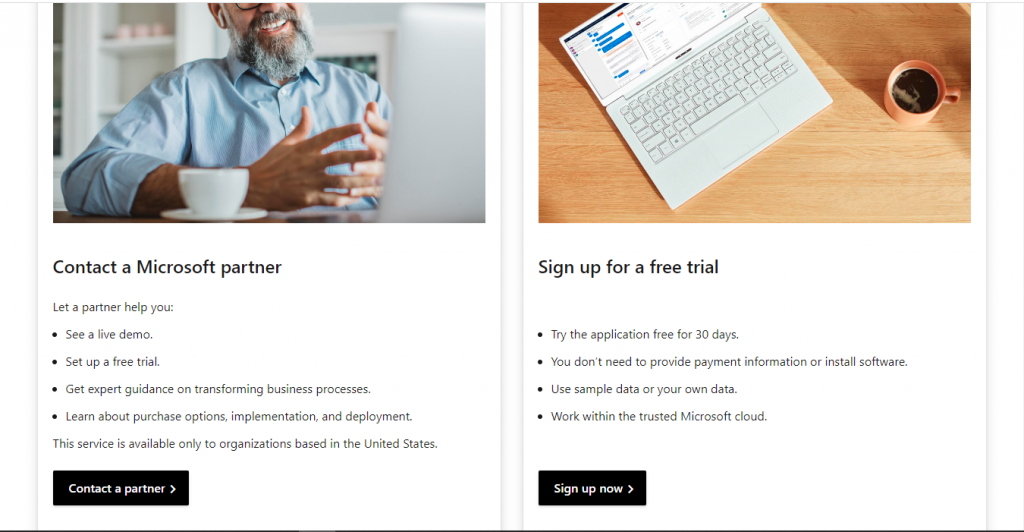 If you want to implement this app in your business, you can click on Contact a Microsoft Partner and follow the further steps.
To use the application free for 30 days, click on the Sign Up Now button and a new page will open where you need to enter your personal details, including Name, E-mail, and Region.
After the registration, you can avail of the D365 Finance trial. Similarly, you can access the Dynamics 365 Supply Chain Management trial.
D365 Finance and Operations Vs Business Central: Most Anticipated Comparison
Both solutions are considered ERP solutions. Business Central is an all-in-one ERP solution to manage and streamline entire business processes, whereas D365 Finance and Operations is specifically a financial and operations management application.
As we know, D365 F&O was separated into two different applications to specifically deal with certain types of operations. But people still believe the two different applications are one and compare them with Dynamics Business Central.
For such people, some of the differences are given below:
| | | |
| --- | --- | --- |
| Parameters  | D365 Finance and Operations  | D365 Business Central  |
| Minimum Users  | 20  | 1  |
| Employee Size  | 250+  | 50-250  |
| Capability  | Entire Finance and Operations processes  | Entire business management application  |
| CRM  | No CRM features  | Some features of CRM only  |
| Implementation  | High Cost  | Comparatively low  |
| Subscription Cost  | £140 to £180  | Starts from £52.80 per user/month (essential plan)  |
| Industry Type  | Medium to Large  | Small to Medium  |
| Language Support  | 30+  | 80+  |
Why choose Dynamics Square as your D365 F&O implementation partner?
There are many reasons to choose Dynamics Square as your D365 F&O implementation partner. We have a proven track record of delivering successful projects on time and on budget. Our experienced consultants have extensive knowledge in accurately implementing almost all applications that fall under the Dynamics 365 umbrella.
We have a team of experienced and certified consultants who are experts in implementation, upgrade, and support services to help you get the most out of your investment. We also offer a comprehensive suite of services to support your implementation or upgrade services, including training, change management, and ongoing support.
We also offer a unique blend of technical and functional expertise that is unmatched in the industry. Our technical consultants are some of the best in the business and can help you solve even the most complex challenges. Our D365 F&O functional consultants have a wealth of experience working with Dynamics 365 F&O and can help you configure the system to meet your specific business needs.
Finally, we are committed to providing outstanding customer service. We will work closely with you throughout the implementation process to ensure that your project is successful. Contact us today to learn more about why we are the best choice for your D365 F&O implementation project.
D365 F&O: FAQs
Is Dynamics 365 Finance and Operations an upgraded version of Dynamics AX?
Dynamics AX was the initial version of the dynamics family when Microsoft implemented Dynamics in its all-business application. Later, it was renamed Dynamics 365 Finance and Operations, and in 2020, the whole application split up into two different apps, i.e., Dynamics 365 Finance and Dynamics 365 Supply Chain Management.
What is the difference between AX and F&O licensing?
The licensing of Dynamics AX consists of four types: Essential, Functional, Task, and Service. And Dynamics F&O is available on a subscription basis with four licence types: Team Member, Full Member, Operations Activity, and Device.
Does Dynamics 365 Finance and Operations have better reporting capabilities than AX?
Dynamics AX was a complicated business solution with a complicated user interface, a slow database, weak reporting, and much more. But, Dynamics 365 Finance and Operations is powerful in terms of creating and sharing reports with precise data insights.
What are the cost differences between Dynamics AX and Dynamics 365 F&O?
Dynamics AX is totally based on company-premises deployment that needs a lot of resources, assets, and effort to set up with minimal errors. At the same time, Dynamics 365 F&O is a cloud-based solution with a monthly or annual subscription. When it comes to cost comparison, Dynamics AX is way higher as compared to Dynamics 365 F&O.
Is Dynamics 365 Finance an upgraded version of D365 Finance and operations?
Upgraded would not be an accurate word for this. However, evolution would work great. Microsoft split the D365 F&O application into two separate apps: D365 Finance and D365 Supply Chain Management. Users can now access the necessary finance or supply chain capabilities without having to purchase an entire and costly application.