9 Best Real Estate CRM Software (2023)
The key factor for building a successful business is managing customers along with offering a smooth experience. Irrespective of the industry, whether retail or real estate, a CRM solution is a must to enhance the efficiency and profitability of a business. In this blog, we are going to discuss the best real estate CRM software solutions that can supercharge a business while streamlining customer management.
The real estate business is booming, and such businesses need advanced business solutions to manage business as well as customers. Here are some popular ERP and CRM software solutions that can not only manage business operations but also streamline customer management.
We are used to learning about the availability of ERP and CRM solutions for retail, manufacturing, and other industries. But CRM for real estate businesses might sound a bit unique to you.
We have various CRM solutions for real estate and construction businesses that are helping such businesses understand their customer needs. Before getting to the list of top solutions, let's understand a bit about CRM in real estate.
What is CRM Software in Real Estate?
A real estate CRM software solution manages all prospects, collects all customer data, manages brokerage, and helps build better relationships with estate clients. It empowers the firm to build meaningful bonds with customers while offering the best experience throughout the sales journey.
A CRM that is specifically built for the real estate business helps the organisation build a sustainable bridge of communication between agents, clients, and the company. From managing the initial communication with prospects to maintaining the data related to site visits, scheduling meetings, and collecting feedback, a CRM can efficiently manage all such operations.
With the right CRM implementation, you can deeply understand a client's needs and preferences related to the property. Also, you can schedule and organise site visits and appointments to build effective communication between the firm and the client.
9 Best Real Estate CRM: Check out the List Here.
Based on our market research and customer choice, we have built a list of the top 9 CRM solutions for real estate capable of supercharging an estate business and accelerating growth.
1. Microsoft Dynamics 365 CRM (recommended)
When we talk about Microsoft CRM, we have different solutions under the Dynamics 365 umbrella. To meet basic CRM requirements, you can go with Microsoft Dynamics 365 Sales. With the recent Microsoft update, all Microsoft CRM solutions come under Microsoft Dynamics 365 CE (customer engagement).
Microsoft Dynamics CRM for construction and real estate businesses is a powerful solution that can flawlessly manage customers, sales, service, and marketing without any hassle. You can utilise this solution to offer a great level of customer satisfaction and enhance efficiency at all levels of the customer's sales journey.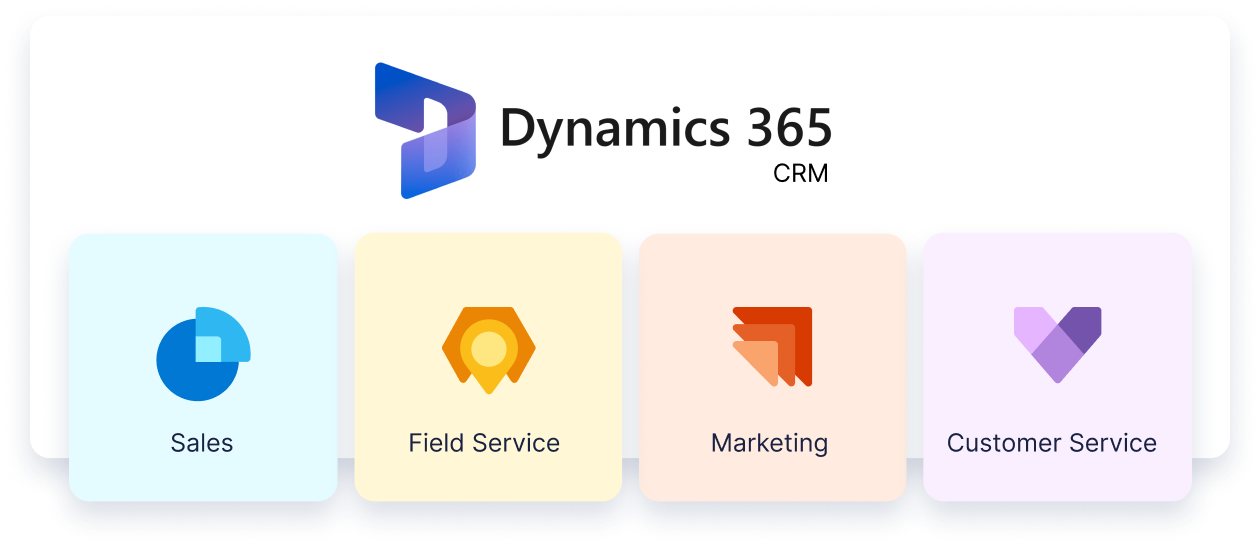 Features of Dynamics 365 CRM:
It integrates with different native Microsoft applications, leveraging the Dynamics 365 ecosystem.
Can be customised to meet specific business needs.
You can use in-built automation to eliminate data silos and recurring tasks.
It tracks all customers, manages their data, and offers actionable insights to help your business grow and scale faster.
Comes with various hosting options that include on-premises, cloud, and hybrid deployments.
2. Pipedrive
Pipedrive is a popular CRM solution built for real-estate businesses. With the intuitive user interface, you can easily manage, track, and monitor all clients while getting data in real time. Also, you can avail data-driven results by building proper and accurate workflows for a particular project. Basically built for SMBs, it offers sufficient tools, features, and capabilities to deal with core CRM needs.
Features of Pipedrive CRM:
Simple user interface and easy operation
Build a strong path for seamless communication between the team and customers.
It offers limited customizability but is sufficient for simple business needs.
Collects and visualises data on all clients, prospects, and sales journeys.
It is easy to build pipelines and workflows while tracking the progress at each stage.
3. HubSpot CRM
HubSpot is a popular and powerful CRM solution available for all businesses, irrespective of industry. It offers various features to the users, including meeting scheduling, email templates, customer management, and lead nurturing. Also, it does offer other tools, like sales automation, pipeline management, centralising communication, streamlining data flow, and much more.
Features of HubSpot CRM:
Comes with contact management capabilities that allow you to record, store, and share customer data whenever needed.
Track each customer throughout the entire sales journey.
You will get the data of all customers on your sales dashboard daily and automatically.
Build personalised sequences based on the customer's requirements.
Build custom forms using drag-and-drop functionality.
4. Bitrix24
Bitrix24 is a free CRM system available worldwide to help businesses enhance productivity while maximising revenue. It is easy to customise, flexible, and available for all devices. Due to its unlimited user access and records, it helps estate businesses manage unlimited leads, manage scheduling, monitor site visits, and build a strong communication link.
Features of Bitrix24
Come with a comprehensive pipeline management tool.
Offers full visibility throughout the project to give you real-time insights into customer activity.
Track marketing expenses and calculate ROI.
The licencing is based on a per-user basis and comes in four plans.
It lets you manage leads and deals while generating quotes and invoices in real-time.
See Also - Dynamics CRM Guide: Overview, Features, Benefits
5. Agile CRM
Agile isn't a proper real estate CRM, but it can be modified to deliver specific functionalities needed in the real estate business. But it does offer some core tools for estate business, like document tracking, task management, appointment setting, contact management, team management, and more. Agile CRM offers a smooth and interactive user experience to the agents while offering integration options to enhance the overall productivity of the business.
Features of Agile CRM:
It simplifies the entire lead management system of a real estate business, from lead capture to nurturing.
With a map-integrated option, it lets you search properly along with the exact location on Google Maps.
You can easily connect your MLS account to list such accounts automatically in the CRM system.
Comes with lead scoring that builds the score of each deal based on interaction with the client.
Leverage automated appointment or site visit scheduling based on time availability.
6. ZOHO CRM
Zoho is a popular and cost-effective CRM for real estate businesses. Zoho CRM streamlines a number of processes that include managing property details, monitoring prospects for sales, connecting property agents, and building a communication bridge between customers and the firm. It helps you attract more customers while also offering a good level of customer service.
Features of Zoho CRM:
Offers you real-time notifications about customer activity.
You can avail customer insights and their position in the sales journey so that you can pitch a more personalised offer.
Automated workflows let you create preferred workflows for all prospects and clients to maximise the chances of cracking the deal.
Comes with third-party integrations to enhance the overall capability of Zoho.
Manage and track the progress of each potential lead generated from any source, whether social media or manual.
7. Insightly
Insightly works well as a real estate CRM solution because of its modern tools and features. It comes with various features that include email automation, lead nurturing, lead tracking, and team collaboration at all points of the sales journey. Along with the standard features all CRMs offer, Insightly CRM offers a detailed dashboard that lets you track and close clients with minimal resources.
Features of Insightly CRM:
Comes with a bulk mailing feature to let you mail thousands of potential clients at once.
With opportunity and pipeline management, you can manage all leads while building new opportunities for the business.
It supports multi-lingualism to help you crack international estate business deals.
You can release quotes and track their progress.
Insightly CRM empowers you to avail yourself of customer data and build reports to make actionable decisions.
8. Salesmate for Realtors
As the name suggests, Salesmate for Realtors is a specifically built CRM platform for real estate businesses, considering all their basic requirements and demands. The best part about this CRM is its connectivity with various data sources to feed leads directly into the solution. Also, it offers automation to help you automate repetitive tasks to attain enhanced effectiveness.
Features of Salesmate for Realtors:
Easily connects with various data sources to bring customer information into the system.
It connects the agents with the customer using different communication channels that include email, text, messages, and calls.
Automate the core real estate business processes to attain more productivity.
You can track the customer's data in real-time to make effective and better decisions while getting more estate clients.
Automate client follow-up using personalised content that includes email and marketing campaigns.
9. Apptivo
Based on cloud deployment, this is one of the real estate CRM software solutions that empowers you to collect customer data from anywhere and anytime. It lets you operate the processes, manage the team, simplify estate processes, build an automated invoicing system, and send bulk mail to the clients. Also, Apptivo enables you to create work orders, which leads to a competent sales agent.
Features of Apptivo:
Easily integrates with various business solutions to streamline different real estate operations.
Build rules to assign leads and potential prospects to the agents automatically.
Create an automation workflow to keep your customers engaged while offering a good customer experience.
Based on the collected data, you can run targeted campaigns to nurture more customers.
It offers you real-time data on all leads and clients to give you more visibility across the sales journey.
Which Real Estate CRM Suits you Most?
Before choosing the perfect CRM for your real estate business, you need to understand your business requirements first. Once you have the data in your hands, analyse your requirements to choose a solution that aligns with your needs.
If you are having issues analysing your business requirements, Dynamics Square is available to help you out, irrespective of the complexity of your business. With 150+ CRM consultants, we have been implementing Dynamics 365 CRM (Dynamics 365 CE) for businesses, helping them achieve their goals while offering the best customer experience.