Dynamics 365 Customer Voice: Understand your Customers Clearly
Dynamics 365 Customer Voice is a powerful feedback management solution for all businesses to help you listen to your customers clearly. It offers customer feedback, true insights, and customer experience to transform a new customer into a recurring one. Before learning more about D365 Customer Voice, let's understand its need for growing businesses.
If you are a business owner or heavily understand a business, you must agree with me when I say, "The needs and demands of customers change daily". And agrees that these changing requirements impact the business a lot, in terms of resources, profits, product demands, and financials.
Understanding and following these customer demands is one of the most crucial tasks for a business, and resolving them with a perfect solution is even more concerning.
Introducing Dynamics 365 Customer Voice, an advanced feedback management solution that can help businesses understand market fluctuations, customer behaviour, offer better experiences, and track real-time feedback.
What is Microsoft Dynamics 365 Customer Voice?
Dynamics 365 Customer Voice is an enterprise level feedback management solution that comes with a set of powerful and advanced capabilities to fetch customer experiences in real-time.
With the power of AI and cloud deployment, you can easily track customers based on different metrics while offering a valuable experience.
This solution allows users to build different kinds of surveys to understand a customer from all aspects of a product or service. Once you have the feedback, you can make the necessary improvements to make it more valuable and impactful.
It helps you understand the customer in real-time and find the requirements they are looking for in your product or service using actionable insights.
Later, you can understand these insights manually or using any data analytics solution, like Power BI. With data-driven insights, you can put efforts into making the customer relationship stronger while also offering the right set of features to customers.
Customer Voice Integration with the Dynamics 365 suite of intelligent solutions is one of the best parts of being in the Dynamics 365 ecosystem. It is a Dynamics 365 CRM application that easily integrates with any business application, whether it is Microsoft ERP or an app from Power Platform.
How D365 Customer Voice Works:
The D365 Customer Voice works in three easy processes:
Build and Deploy Surveys
Customer Voice in Dynamics 365 offers pre-made templates to help you build surveys in minutes without starting from scratch. Also, you can run multiple projects altogether to deal with different sets of customers.
This solution is so flexible that it allows you to customise a pre-made template to match it with your survey requirements. All surveys are responsive in nature and can be shared via email, direct link, or QR code.
Review the Survey Feedback
Once you send the survey to your customers, they will fill it out, and you can see the feedback in real-time. You can even monitor the survey results in real-time.
When more than one customer submits feedback, you can see the results in The Satisfaction Metrics dashboard that comes with the Dynamics 365 Customer Voice solution.
You can check out the feedback in the form of a graphical representation with different visualisations for different metrics, like CSAT (customer satisfaction), Customer Sentiment, NPS (Net Prompter Score), and more.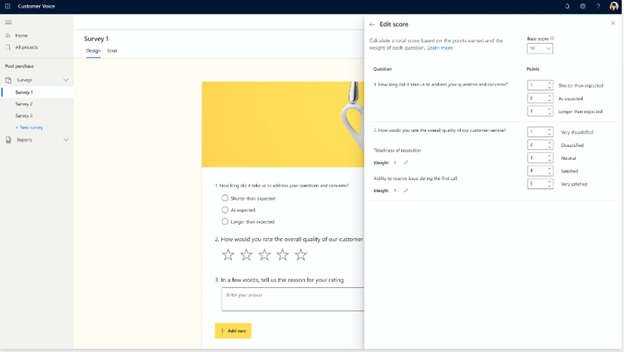 Make Changes as per Insights
Now, you have the data from the survey and the visualisations to understand the data. With these insights, you have to make changes to your product or service so that you can improve its quality.
Also, you can integrate other Dynamics 365 applications with it for further analysis and improvements. You can integrate Power Automate, Dynamics 365 Sales, Dynamics 365 Customer Service, Dynamics 365 Marketing, and more such applications
Capabilities of Dynamics 365 Customer Voice
D365 Customer Voice empowers businesses to understand the customer by using feedback to offer a better and enhanced customer experience. It offers various capabilities to businesses, among which some are listed below:
Understand Customer Demands
D365 Customer Voice collects data through feedback submitted by customers while giving real-time updates on all insights. It helps you track the level of customer experience along with overall business performance.
With ready-to-apply survey templates, you can build attractive surveys with different sets of criteria that include different kinds of questionnaires, branding, and personalization. It helps businesses send personalised templates to get a higher rate of feedback submission. 
Get True Insights
Customer Voice by Dynamics 365 helps you decode the feedback insights for the betterment of the organisation. It allows users to understand the major factors a business needs to improve, whether on a priority basis or not.
To understand the insights, you need to open the Visualise Insights section in the Customer Profile Dashboard. This dashboard is built using the capabilities of Power BI to help you visualise and analyse data better and more effectively.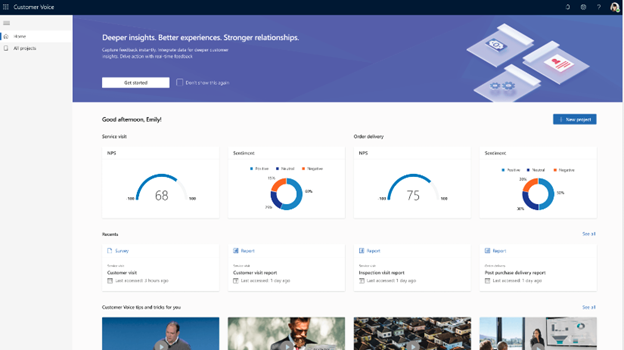 Take Actionable Decision
With the integrations, Microsoft allows businesses to combine the survey feedback with the customer data they have in their system to find actionable insights.
You can even set different types of triggers within your existing system to automatically alert you if there are concerning issues with any of the customers.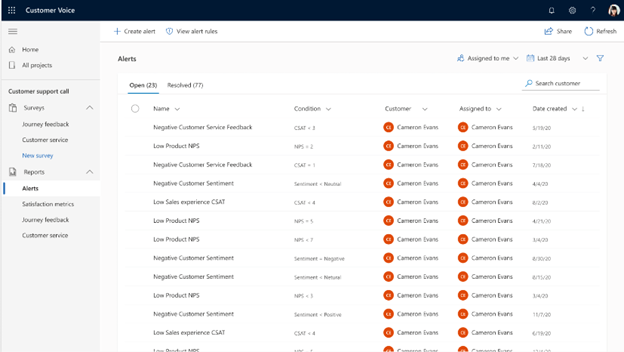 Dynamics 365 Customer Voice Pricing and Licensing
Dynamics 365 Customer Voice licencing and pricing are based on two setups.
1. If you are an existing customer of the following Microsoft Dynamics 365 applications, you can avail yourself of 2,000 survey responses per tenant/month. Check out the applications below:
Sales Enterprise
Customer Service Enterprise
Field Service
Marketing
Customer Insights
Human Resources
Project Service Automation
2. If you are a new customer and are purchasing the licencing separately, you need to pay £164.40 for 2,000 survey responses per tenant/month.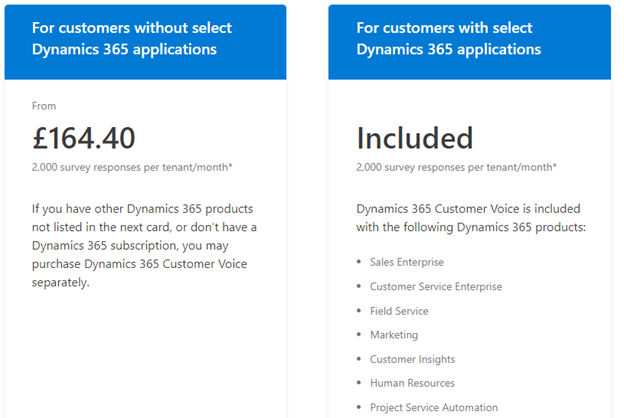 How to Get Started with Dynamics 365 Customer Voice? 
If you are an existing user of any of the Microsoft Dynamics 365 applications, you can easily implement Dynamics 365 Customer Voice by contacting your Dynamics 365 implementation partner. They will understand your requirements and offer you the perfect solution for your business. 

If you are totally new to the Dynamics 365 intelligent line-up of applications, you need to find and contact a Dynamics 365 Customer Voice implementation partner, like Dynamics Square. Being certified Microsoft Solutions Partners, we have 150+ expert technical consultants who have been helping unique businesses like yours generate more profit with existing business processes. 
We have been in the industry for more than 12 years, implementing Microsoft business applications for global businesses, accelerating their growth and scalability journeys. Give us a call at +44-207-193-2502 or write us a mail at info@dynamicssquare.co.uk. Dynamics Square is just a call away from helping you understand your customers better.